Legendary 1933 Football Team Featured on CBS' Sunday Morning
October 16, 1983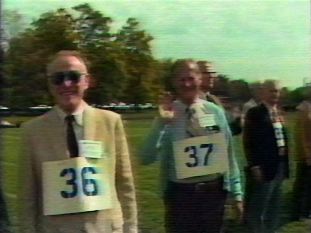 October 16, 1983, Greencastle, Ind. - "This thing will never be over because it is frozen in a golden time; a perfect once upon a time," says CBS News in a report on DePauw University's 1933 football team. The men of that legendary squad -- the last in the nation to go unbeaten, unscored upon and untied -- returned to campus last weekend for a 50th reunion and were honored at halftime of the Old Gold Day football game.
"Of the original 40 man roster, 33 are still alive and 26 showed up for the reunion," the story notes. It details the long friendships the team members have shared and how they banded together to raise more than $2 million for DePauw's new fieldhouse, which bears the name of their beloved coach, Raymond "Gaumey" Neal.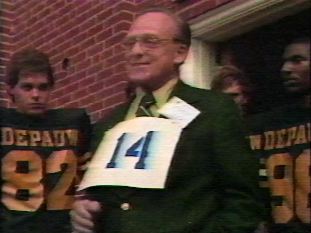 George Lortz '34, the center and captain of the team, is shown giving this year's Tigers a pep talk before the game. "Don't forget the big picture," he told the student-athletes. "Football is only a game. Number two: games were made to play and to have fun, and it's a helluva lot more fun if you're winning. So let's go out there and have a lot of fun today."
DePauw embraced that challenge with gusto, defeating Illinois Benedictine 50-7 in front of a packed house at Blackstock Stadium.
Clips of the nearly ten minute report, which appeared on CBS Sunday Morning, can be accessed here:

[Download Video: "Clip One" - 9100kb]

[Download Video: "Clip Two" - 8000kb]

[Download Video: "Clip Three" - 7600kb].
Ten years ago, Coach Neal and his former players were honored at a special Old Gold Day luncheon marking the 40th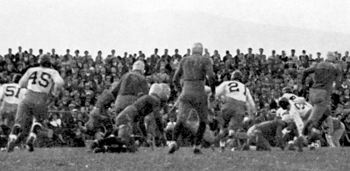 anniversary of their historic season.
Access a "Monon Memory" of the legendary 1933 football season here:

[Download Video: "1933 Monon Memory" - 5322kb].
The 1933 team was featured in the October 7 Indianapolis Star. Read more here.
Source: CBS Sunday Morning
Back