Story of Percy Julian '20 is "Inspiration for the Need for Diversity in Education," Writes President Bottoms in Indianapolis Star
February 6, 2007
Visit Special Percy Julian Web Page; NOVA's 'Forgotten Genius' Airs Tonight at 8 p.m. EST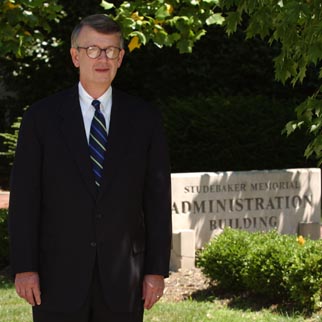 February 6, 2007, Greencastle, Ind. - Percy L. Julian, the pioneering chemist and 1920 graduate of DePauw who is the subject of a two hour NOVA film that airs tonight, "is an inspiration for the need for diversity in education -- especially science education -- in Indiana and the nation," writes DePauw President Robert G. Bottoms. In an op-ed published in today's Indianapolis Star, Bottoms asserts, "A greater supply of scientists is more necessary than ever to help the country remain competitive technologically and economically."
DePauw's eighteenth president notes, "People today may not recall Percy, a 1920 DePauw University graduate, who achieved the total synthesis of physostigmine, a drug use to treat glaucoma, while a research fellow at DePauw in the 1930s. They also may not remember that Julian went on to make many other important discoveries -- the synthesis of cortisone that allowed an economical way to provide treatment to sufferers of rheumatoid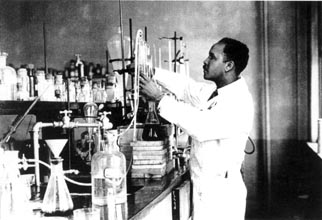 arthritis, the fire-retardant foam known as 'Navy Bean Soup' that was used to extinguish fires on aircraft carriers in World War II and saved many lives, synthesis of progesterone and testosterone and other sex hormones, and more. He became the first black chemist to direct research at a major corporation, Glidden."
The NOVA program will serve to remind the more than 6 million people expected to watch the program of Dr. Julian's accomplishments, and of the doors he opened for future generations. "He has served as a role model in the last two decades as DePauw has significantly increased the percentage of multicultural students on campus to 14.6 percent and has grown the percentage of multicultural faculty members to 15.1 percent of the total faculty," Bottoms writes. "His name is forefront in efforts to strengthen undergraduate science education as evidenced by the Percy Lavon Julian Science & Mathematics Center on campus [seen below] and a lecture series named for him."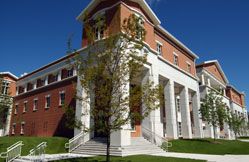 The president declares, "The scientific community is not as culturally diverse as it should be, and the number of minorities who pursue doctoral degrees in the sciences is alarmingly small. The National Science Foundation has noted the pressing need to encourage minority students to bring their talents into the scientific community.
"Perhaps as a result of his experiences, Julian was a steadfast advocate of a liberal arts education as preparation for a career of scientific exploration and discovery. He also fervently believed in a worldview of the scientific community," says President Bottoms. "That philosophy remains as relevant today as it was in his lifetime. In the 21st century, not only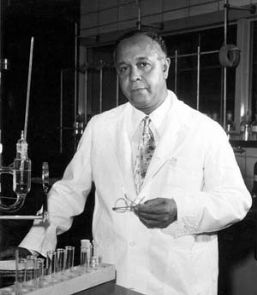 should colleges and universities continue to encourage and support minority students to pursue a higher education, but should work to attract more international students to enrich the educational environment. Some of those international students will remain in Indiana or elsewhere in the U.S. and contribute in ways similar to Julian."
Read the complete column by clicking here.
The premiere of NOVA's "Forgotten Genius" is set for 8 p.m. tonight on most PBS stations across the nation. To view an extended clip of the program and to learn more about Julian's DePauw experiences through text, photos, audio and video, visit this special Web page which has been created to complement the NOVA documentary.
Most PBS stations in Indiana will air messages from DePauw before and after the program.
Source: Indianapolis Star
Back