New York Times Calls Film on Percy Julian '20 "Riveting" and "Ambitious"
February 6, 2007
Visit Special Percy Julian Web Page; NOVA's 'Forgotten Genius' Airs Tonight at 8 p.m. EST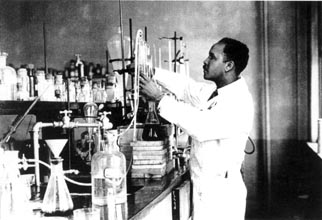 February 6, 2007, Greencastle, Ind. - "On the day that Percy L. Julian graduated at the top of his class at DePauw University, his great-grandmother bared her shoulders and, for the first time, showed him the deep scars that remained from a beating she had received as a slave during the last days of the Civil War. She then clutched his Phi Beta Kappa key in her hand and said, 'This is worth all the scars.'" In today's New York Times, Felicia R. Lee uses that story to begin a preview of tonight's premiere of a two hour film on Julian, a 1920 graduate of DePauw, on PBS.
"Forgotten Genius," writes Lee, "dramatizes the story of Mr. Julian, a largely neglected black chemist who was nonetheless one of the most important scientists of the 20th century. He is played by the Tony Award-winning actor Ruben Santiago-Hudson [seen at right], and the moment with his great-grandmother is but one in a film full of the echoes of the
country's painful racial history. The NOVA filmmakers' effort to revive Mr. Julian's legacy is not only riveting, but also one of the most ambitious projects in the 34-year history of NOVA."
The Times article notes the work of Paula S. Apsell, senior executive producer for NOVA; director Llewellyn M. Smith; and Stephen Lyons, project director, who an co-wrote and co-produced the film with Smith. (Audio of a May 2002 interview with Lyons, conducted while he was on the DePauw campus filming interviews for the film, can be accessed here)
"Because there was no full biography of Mr. Julian, Ms. Apsell said, about four years went into original research on his story: finding his unpublished autobiography, gathering speeches in which he talked about his life and work, conducting oral histories around the country with those who knew him," reports Lee. "Narrated by the actor Courtney B. Vance (Ron Carver on Law & Order: Criminal Intent), 'Forgotten Genius' relies on a combination of interviews and dramatic re-enactments."
The article notes the struggles and triumphs that Julian encountered. "He spent years teaching at DePauw,
in Greencastle, Ind., where a building is now named in his honor, but was denied a faculty position." Percy Julian, who died in 1975, was a member of DePauw's Board of Trustees and was awarded the University's McNaughton Medal for Public Service in 1972 (see video:

[Download Video: "Film Clip of the Ceremony" - 2914kb] )
"I think in the film there's a view of him as a whole human being, and that's unusual for scientists," Smith tells the Times. Santiago-Hudson states, "I became Percy Julian. These are the stories I want to tell. They straighten us out in a society where the people who write the history books want the heroes to look like them."
The story also notes that Dr. Julian's legacy will continue with the
creation of the In Search of Genius Foundation, which aims to help minority students who have interest in science. Neal B. Abraham, executive vice president of DePauw, serves on the organization's board. In addition, "Nova is turning over more than 2,000 pages of transcripts from the film to an archive of the Julian family's choice so that there can finally be a chance for a scholarly look at Mr. Julian."
Read the complete text, headlined "Reclaiming a Black Research Scientist's Forgotten Legacy," at the Times' Web site.
DePauw President Robert G. Bottoms wrote an op-ed on Percy Lavon Julian that was published in this morning's Indianapolis Star.
Tonight's NOVA program airs at 8 p.m. on most PBS affiliates across America and is spotlighted in dozens of newspapers this morning, among them: the Detroit News; Boston Globe ("It's a giant legacy, and it deserves to be remembered"); Hudson Valley, New York's Times Herald-Record; the News & Observer of Raleigh, North Carolina; Baltimore Sun; Cincinnati Enquirer ("beautifully told'); Louisville Courier-Journal; and Alabama's Montgomery Advertiser.
There have also been recent writeups in the Chicago Sun-Times, San Jose Mercury News, Columbus Dispatch, Fort Worth Star-Telegram, Birmingham News, and Washington Post. USA Today called the program "inspiring" and a Chicago Tribune op-ed last week discussed Dr. Julian's pioneering work.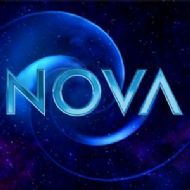 On January 30, the United States House of Representatives passed a resolution honoring the life of Percy Lavon Julian.
Most PBS stations in Indiana will air messages from DePauw before and after the program (they are embedded below).
To view an extended clip of "Forgotten Genius" and to learn more about Julian's DePauw experiences through text, photos, audio and video, visit this special Web page which has been created to complement the NOVA documentary.
Back