Starbucks USA President Jim Alling '83 to Serve Up Ubben Lecture and Free Coffee March 13
February 17, 2007
[UPDATE 3/1: Due to the advancing construction/renovation work on the Performing Arts Center, this event has been moved to Meharry Hall in East College.]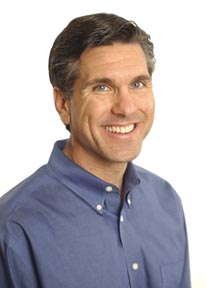 February 17, 2007, Greencastle, Ind. - Jim Alling, president of Starbucks USA and 1983 graduate of DePauw University, will return to his alma mater on Tuesday, March 13 to present the Timothy and Sharon Ubben Lecture. Alling's speech, "Growing Big, Staying Small at Starbucks," will begin at 8 p.m. in Meharry Hall of historic East College. As is the case for all Ubben Lectures, the event is free and open to the public (see a complete list of past Ubben Lecturers by clicking here).
After the lecture and a question-and-answer session, guests are invited to attend a coffee tasting event. Visitors will also receive a complimentary Starbucks product to take home with them.
In his DePauw address, Alling will talk about the road that brought him from Greencastle to Starbucks headquarters in Seattle, and how the company is striving -- as its mission statement asserts -- to provide "an uplifting experience that enriches people's lives one moment,

one human being, one extraordinary cup of coffee at a time," while embracing an array of socially responsible policies and initiatives.
Starbucks Coffee Company and Earthwatch, the world's leading environmental volunteer organization, have worked together on 15 different conservation projects, including one that is designed to improve sustainable coffee farming and benefit coffee farmers in Costa Rica. Starbucks remains one of the largest purchasers, roasters and distributors of Fair Trade Certified™ coffee in North America. Established in 1997, the Starbucks Foundation has provided over $12 million to more than 700 youth focused organizations in the United States and Canada.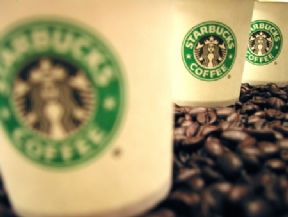 Jim Alling graduated from DePauw with a bachelor's degree in economics and Spanish, then earned a master's degree in international management from the American Graduate School of International Management.
He joined Starbucks in September 1997 after a lengthy career with Nestlé USA. At Nestlé , Alling was vice president and general manager of several divisions, including ground coffee. He began his tenure at Starbucks as senior vice president, grocery and became senior vice president, specialty sales and marketing in December 1998. In August 1999, Alling was named senior vice president, business alliances, where he helped build the business unit by developing numerous agreements with leaders in the foodservice, grocery and travel industries. Alling was named senior vice president, North America retail in May 2001. He was moved into the position of senior vice president, marketing
in June, 2003 and promoted to executive vice president, business and operations, US, in November, 2003. He was promoted to his current position on October 12, 2004.
The business unit has over 100,000 partners (i.e. employees) with annual sales over $6 billion coming primarily from its 9,000+ retail stores.
Outside work, Jim Alling's greatest interests are his wife, Annette, and three sons (Zach, Brett, and Nick). Jim is an avid runner and coaches his sons' soccer teams. Alling also serves on the board of directors for Jumpstart, a Boston-based nonprofit that organizes college students who help prepare pre-school children for school through literacy development. With programs in 18 states, Jumpstart is one of Starbucks national nonprofit partners.
The Ubben Lecture Series' recent visitors have included For One More Day author Mitch Albom and biologist E.O. Wilson in Fall 2006. Other past Ubben Lecturers have been: Mikhail Gorbachev (seen at left with DePauw President Robert G. Bottoms), Peyton Manning, Spike Lee, Shimon Peres, Benazir Bhutto, General Colin Powell, Mike Krzyzewski, Jesse Jackson, L. Paul Bremer, ice cream entrepreneurs Ben & Jerry, Rev. Jesse Jackson, General Wesley Clark, Hotel Rwanda's Paul Rusesabagina, Ross Perot, and Harry Belafonte.
To view a complete list of Ubben Lecturers, which includes links to video clips and news stories, click here.
Back