More Than 25 Midwest-Based Artists Featured in DePauw Biennial, February 14 - May 10
February 10, 2007
Also: 'Kevin McCarty: I'm Not Like You,' January 29 - May 10; 'The Logic of Place: Yuki Nakamura,' January 31 - March 1
February 10, 2007, Greencastle, Ind. - The 2007 DePauw Biennial, an exhibition featuring the work of contemporary artists based in Illinois, Indiana, Kentucky and Ohio, will be on view at the University's Richard E. Peeler Art Center from February 14 through May 10, 2007. The public is invited to view the art free of charge, as well as attend an opening reception with a performance by the Ninnie Love'in Band Friday, March 2, at 6 p.m. (at left: Melissa Pokorny, Drag (Double-Goer), 2005; MDF, laminates, polyurethane resins, polar fleece and fabric)
Much like the large, international-scaled biennials that have become ubiquitous vehicles for identifying and showcasing trends and particularities in contemporary art, the DePauw Biennial was conceived as a means of bringing attention to the innovative work of artists based in the Midwest. Although it is more modest in scale and scope than its more comprehensive counterparts, its objective is the same: to legitimize the artists and work being produced in the region by inserting them into contemporary art discourse and to break with the isolation of the local/regional art scene by connecting it to a larger, national/global art world. (below right: CarianaCarianne, Liable Precipitants of Miraculous Gifts,
2006; split-screen video)
In addition to the gallery-based component of the show, several participating artists and artist groups/collectives in Illinois, Indiana, Kentucky and Ohio have been invited by curator Kaytie Johnson, director and curator of DePauw University's galleries, museums and collections, to experiment with modes of presentation by developing projects beyond expected exhibition sites -- that is, the "white box" of the gallery space. By challenging the boundaries of contemporary art practice, the work and projects they are undertaking will engage people beyond traditional art audiences and explore the dynamics between artist and audience.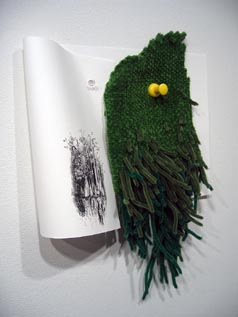 The 2007 DePauw Biennial explores richly divergent approaches to art-making in which site-specific projects -- several staged or installed outside of the gallery and requiring the participation of the audience as "co-producers" -- is intended to be not only an exhibition, but a dynamic and experiential forum for cultural production. The Biennial and its related projects will explore and redefine the relationship between audience and cultural institution, and artist and audience, and will test new structures of collaboration and venues for the presentation of innovative work. (left: Matt Coors, Swamp Thing III, 2005; ink, paper, pipe cleaners and thumbtacks)
Invited artists and artist groups/collectives include: Biggest Temporary Gang Ever (Biggest Fags Ever, Temporary Services and ausgang), CarianaCarianne, Matt Coors, Paul Coors, Ken Fandell, Diana Guerrero-Maciá, Kevin Hamilton, Terence Hannum, Mark Harris, Stuart Hyatt, Stephen Irwin, Andrew Loughane, David Lozano, Sarah Lyon, newsense enterprises, Brian Nicely, Cynthia Norton, Melissa Pokorny, Letitia Quesenberry, Chris Radtke, Academy Records/SIMPARCH/Chris Vorhees, José Versoza, Matthew Waldbillig and Matthew Weddington.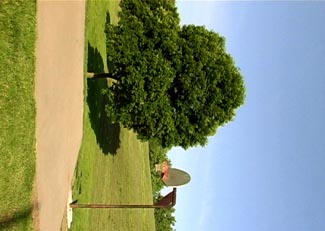 The galleries at the Richard E. Peeler Art Center are open Tuesday through Friday from 10 a.m. to 4 p.m.; Saturday 11 a.m. - 5 p.m.; and Sunday 1 - 5 p.m., and are closed during University breaks and holidays. Click here for more information about special events associated with this exhibition. (right: José Versoza, Hoop and Tree, 2005, digital video)
The 2007 DePauw Biennial and its accompanying programs have been made possible by the generous support of the Indiana Arts Commission and the National Endowment for the Arts. Additional support has been provided by Neal Abraham, Donna Wiley and an anonymous donor.
Back