Democrats "Deserve What They Get" for Lacking Counterargument to Iraq War, Writes Prof. Ken Bode
February 9, 2007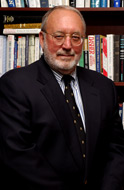 February 9, 2007, Greencastle, Ind. - As the war in Iraq continues and the 2008 race for the White House heats up, "the headlines over the past week all said essentially the same thing: 'Democrats all condemn Bush's war but differ sharply on how to end it.' They keep posing questions and objections, but can't seem to come up with answers of their own," Ken Bode writes in today's Indianapolis Star. DePauw University's Eugene S. Pulliam Distinguished Visiting Professor of Journalism adds, "The Star wasn't the only newspaper in America to endorse the Bush plan by default, saying, in effect, the Democrats had nothing else to offer."
Dr. Bode, a former political analyst for CNN, NBC and PBS, continues, "For one, brief moment, the Democrats had a ready-made, gift-wrapped, gold-plated plan. Lee Hamilton and Jim Baker kept the details of the Iraq Study Group report under wraps until after the American electorate had delivered a decisive verdict on the war last November. Instead of embracing the plan, the Democrats
dithered while President Bush discussed, delayed and finally derailed the report, smothering it by arguing that timetables or any other signs of weakness would undercut our troops. When the Decider decided, we got no diplomacy, no plans for withdrawal. We got the surge."
The professor declares, "Not in four years have the Democrats ever come up with a persuasive and unified counterargument... Why? That is the great question historians will ask about this war... From day one of this war, the country has lacked an opposition party. It is time for that to change."
Last week, Hillary Rodham Clinton was quoted: "If we in Congress don't end this war before January of 2009, as president I will." Bode calls the statement "chilling," adding, "That goes right along with the Bush plan to allow the war

to drag on and end up on his successor's desk." The professor concludes, "If the Democrats do nothing about the war in Iraq between now and inauguration day 2009, they will deserve what they get. Bush will just hang on and hand it over. If it's to Hillary, he will say, 'Congratulations, President Clinton, Iraq is now your war to lose.'"
Read the complete column at College News.org.
A documentary produced by students in Ken Bode's class took a third place award at last weekend's Muskegon Film Festival. Learn more here.
Source: Indianapolis Star
Back