Trinity wins fourth straight SCAC title; DePauw finishes second
February 10, 2007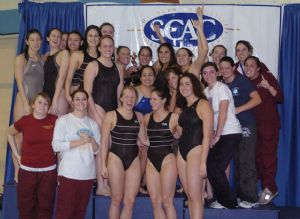 February 10, 2007, Crawfordsville, Ind. - Trinity totaled 934.5 points and won its fourth straight Southern Collegiate Athletic Conference Swimming and Diving Championship.
DePauw was the runner-up with 774.5 points, while Centre was third with 633.5 and Sewanee fourth with 537. Rhodes placed fifth with 481.5 points followed by Southwestern (339), Colorado College (323), Austin (236) and Hendrix (185).
DePauw's Katie Doogan was named the Female Swimmer of the Year for the second time in the last three years and Trinity's Lauren Walstad was named the Diver of the Year for the second consecutive year. Doogan won the 200- and 400-yard individual medley in SCAC record and NCAA provisional times in addition to taking the 200 backstroke title with a provisional time. Walstad captured both one- and three-meter diving titles and set SCAC records in both.
In Saturday's competition, DePauw's 200-yard freestyle relay of Cassie Enix, Amanda Stier, Doogan and Maddison Hamil won in 1:38.36 before Lindsay Weigley of Trinity won the 1,650 free in 18:17.17.
Doogan then won the 200 back in 2:08.66 before Rhodes' Jazzy Miller took first in the 100 free in 53.89. Southwestern's Alana Bergfield won the 200 breaststroke in a provisonal time of 2:27.23 and Stier won the 200 butterfly in 2:07.36 which set a conference record and was a provisional time.
Trinity's 400 free relay of Leta Gatton, Lauren Gann, Alison Gizinski and Weigley wrapped up the meet by winning in 3:37.02.
Back