DePauw sets scoring record on way to third straight SCAC title; Trinity finishes second
February 10, 2007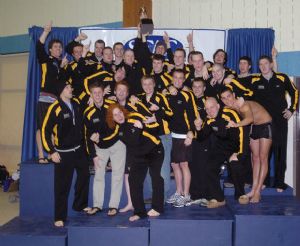 February 10, 2007, Crawfordsville, Ind. - DePauw established a conference record with 1,055 points and, in turn, claimed the largest margin of victory in winning its third straight Southern Collegiate Athletic Conference championship.
Trinity finished second with 666 points followed by Centre with 639, Sewanee with 597 and Colorado College with 576. Hendrix placed sixth with 284 points followed by Rhodes (269), Austin (185) and Southwestern (7).
DePauw's Rob Alexander was named the SCAC Male Swimmer of the Year after claiming firsts in the 50-yard freestyle, 100 butterfly and 100 free. His 50 and 100 free performances were NCAA automatic qualfiying times with the 100 time also establishing a conference record. His 100 fly time also was an NCAA provisional swim.
Centre's Dustin Schulten was named the SCAC Male Diver of the Year for the second straight year and third time in four years after winning the three-meter competition and placing second on the one-meter board.
In Saturday's competition, Centre's Will Jenkins won the 1650 free in 16:55.16 before DePauw's Brock Sishc took first in the 200 backstroke in 1:57.29. Alexander then won the 100 free in 45.37 and DePauw's Alex Trooxel won the 200 breaststroke in 2:11.54.
Trinity's Will Basinger finished first in the 200 butterfly in 1:57.45 and DePauw's 400 free relay of John Cook, Steve Klabak, Greg Nowak and Alexander won in an SCAC record and NCAA provisional time of 3:06.12.
Back