Percy Julian '20 is "Revered" at DePauw, President Bottoms Writes in Chicago Tribune
February 13, 2007
February 13, 2007, Greencastle, Ind. - "At DePauw University, Dr. Julian is revered as a brilliant chemist and human rights advocate, and our science and mathematics building is named in his honor," writes DePauw University President Robert G. Bottoms in a letter to the editor published in today's Chicago Tribune. Dr. Bottoms writes to clarify one of the points made by Dennis Byrne in a January 29 column on Percy Julian, the pioneering chemist and 1920 graduate of DePauw.
"As Byrne correctly noted in his piece, Percy Julian was denied a faculty position at DePauw by the board of trustees, over the objections of the president and the academic dean. Although we are not proud of the decision made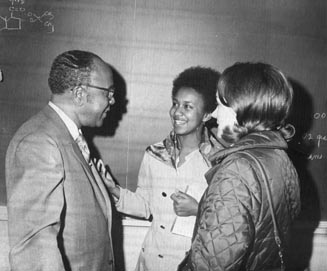 by the trustees in 1935, a time of deep discrimination against African-Americans in our country, we want to correct the impression that DePauw University abandoned Dr. Julian, or that we were alone in our actions."
The president points out that Julian faced discrimination from other institutions, including Harvard University, a sad reflection of the times. He asserts, "DePauw University has a long history of welcoming students from many races and different cultures. The first African-American and international students (from Japan) were enrolled in the 1870s. Although Dr. Julian must have been disappointed with the decision of the DePauw trustees not to grant him a faculty position, he maintained an active relationship with the university throughout his life."
As the letter states, Percy Julian
received an honorary doctorate from DePauw (1947); was awarded the Old Gold Goblet (1950); was a member of the University's Board of Trustees and helped plan the science and mathematics center that was named for him in 1980; and Dr. Julian's family endowed scholarships at DePauw and a fund for chemistry research and lectures.
"During my tenure at DePauw, one of my highest priorities has been to enhance campus diversity because we learn more from people who bring different cultures, experiences and points of view to our community," the president writes. "I believe that were he still alive, Dr. Julian would be pleased with the progress we have made increasing the participation of under-represented students and faculty members to 15 percent each. We are proud of our record of welcoming students and faculty members from diverse backgrounds, and for our tradition of academic excellence and the uncommon success of our graduates."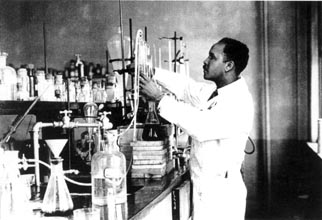 Access the complete text at the Tribune's Web site (a free registration may be required).
An op-ed by Robert Bottoms on the life of Percy Lavon Julian and the lessons we can learn from his work and perseverance was published February 6 in the Indianapolis Star. That evening, the PBS program NOVA aired a two hour film, "Forgotten Genius," that told Julian's remarkable story. Previews of the program were published in dozens of newspapers, including the New York Times.
Visit DePauw's Percy Julian Web site by clicking here.
Back