University Closed as a Result of Snow Emergency
February 14, 2007
[UPDATE 5:28 p.m.: Putnam County road crews continue to work on outlying roads and expect to downgrade the Level II Snow emergency by midnight, thus allowing necessary vehicular traffic. We expect to return to full operations and class schedule on Thursday, February 15]
February 14, 2007, Greencastle, Ind. - Classes at DePauw University are canceled for today and the campus is closed for business as Greencastle and Putnam County are under a level 2 snow emergency. The snow, which fell for about 24 hours, stopped at about 2:30 a.m. but continues to blow and drift. During a level 2 emergency, police allow only emergency vehicular traffic to be on the roads until the status is lifted.
DePauw's food service will operate today from 7 a.m. to 7 p.m. Roy O. West Library and the music library in the Performing Arts Center will be open until 9 o'clock tonight.
WISH-TV/CBS meteorologist Randy Ollis estimates Greencastle has received 12.5" of precipitation. The storm dumped a layer of about 5" of snow on the DePauw campus, which was followed by a mixture of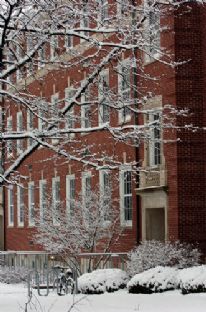 ice, sleet and snow, with another blast of snow last night.
Today's forecast calls for a few more snow showers and a high of 20 degrees. Wind chills were below zero this morning.
"For the safety of our students, staff and faculty members -- a number of whom must drive to campus to work, this is a necessary step," says Doug Cox, director of public safety at DePauw. Cox, who has been with the University since 1986, believes this is the first time since the 1970s that DePauw has officially closed due to weather. "This is very unusual, but so are the weather conditions. "
Check this page throughout the day for updated information.
To get the latest information on Greencastle conditons and the forecast, click here. Bulletins on road conditions are available from the Indiana State Police.
Back