Award-Winning Author Richard Peck '56 Releases On the Wings of Heroes
February 14, 2007
February 14, 2007, Greencastle, Ind. - "Richard Peck's 30 mystery and coming-of-age novels appeal to middle-graders and young adults alike," notes the Sacramento Bee. The California newspaper previews the March 24 appearance of Peck, a 1956 graduate of DePauw University, as part of the "Bee Book Club." In the coming weeks, the series will also present Sophie Kinsella and Patricia McKissack, who, like Peck, is a winner of the Newbery Medal.
"His new book is On the Wings of Heroes," which arrives in bookstores tomorrow, notes the newspaper of Peck. "A starred review in Publishers Weekly magazine says it's 'another delicious mixture of humor, warmth and local color, which describes America during World War II through the eyes of a Midwestern boy, Davy Bowman.'"
Booklist adds, "No one does nostalgia better than Peck, and this episodic story of a boy's life on the home front just before and during World War II is a charmer... All in all, there remains no more genial guide for a trip down memory lane than the redoubtable Peck."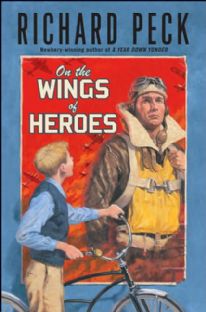 On March 24, Peck will appear at the Borders bookstore at 2339 Fair Oaks Blvd. at 10 a.m., then will be at the Borders aat 2030 Douglas Blvd. in Roseville, California, at 2 p.m.
The Bee points out that "Peck has won numerous honors, including a National Humanities Medal, a Newbery Award and the Margaret A. Edwards Award for lifetime achievement. He has twice been nominated for the Edgar Allan Poe Award and once for a National Book Award."
Access the story by clicking here.
Learn more about Richard Peck in this previous article.
Back