DePauw and Centre Battle to the Wire for SCAC Men's Basketball Title
February 15, 2007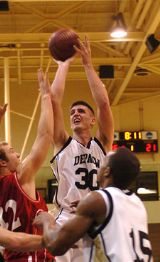 February 15, 2007, Greencastle, Ind. - "Centre men's basketball coach Greg Mason and his players are hoping to avoid the anguish that ended last season," begins a story in today's Lexington Herald-Leader. "The Colonels were setting up for a winning shot that would have carried them to the NCAA Division III Tournament. But a deflected pass and turnover resulted in a 65-foot heave that banked home. DePauw had a three-point victory in the final of the Southern Collegiate Athletic Conference Tournament. ESPN viewers around the world watched the miraculous shot for several days."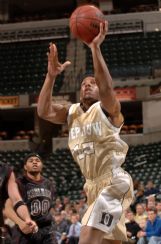 The Kentucky newspaper reports on how Centre and DePauw are tied for the Southern Collegiate Athletic Conference lead -- with DePauw owning the tiebreaker -- as the SCAC tournament approaches next weekend.
Rick Bailey writes, "Centre and DePauw are trying to win the regular season in the final weekend of the SCAC campaign. They are 10-2 and tied for first."
Read the complete story by clicking here.
For the latest on Tiger basketball, including the #8 ranked women's team, visit the DePauw athletics Web page.
Back