A. Andrew Das '87 Authors Solving the Romans Debate
February 15, 2007
February 15, 2007, Greencastle, Ind. - Solving the Romans Debate by A. Andrew Das, Niebuhr Distinguished Chair of the department of theology and religion at Elmhurst College and 1987 graduate of DePauw University, has just been published by Fortress Press. L. Ann Jervis, professor of New Testament at Trinity College/University of Toronto, says "Das makes a strong case that in Romans Paul was writing to an exclusively gentile audience... This book is an important and stimulating contribution to the ongoing Romans debate."
"Scholars have long debated the 'double character' of Romans," notes a synopsis of the text. "Why did Paul address a long discussion of Jewish themes to a Gentile audience? Das provides a fresh understanding of the identity and attitudes of the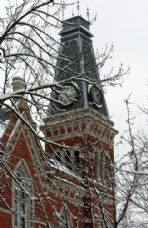 Gentile Christians in Rome and of the expulsion of Jews from Rome under the emperor Claudius. His reading offers new insight into Paul's concern for the Jewish roots of the Christ movement."
Dr. Das, a biological sciences major at DePauw, has authored a number of previous books, including: Paul and the Jews; Paul, the Law, and the Covenant; and Baptized into God's Family.
Learn more about Solving the Romans Debate at Amazon.com and Barnes & Noble.com.
Back