Why? Asks Prof. Ken Bode of Hillary Clinton's Large Lead Among Black Voters
February 16, 2007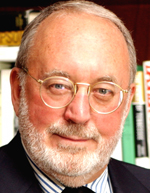 February 16, 2007, Greencastle, Ind. - "Who ultimately gets the black vote is the major subplot in the Hillary vs. Obama drama," asserts Ken Bode in today's Indianapolis Star. DePauw University's Eugene S. Pulliam Distinguished Visiting Professor of Journalism urges readers of his column, "Watch how it plays out."
Bode points out that African-American candidates for public office are usually asked, "Can he get any white votes?" But a Washington Post/ABC News poll "has turned that question on its head," the professor states. The survey shows Hillary Rodham Clinton leading Barack Obama The poll shows Hillary Clinton with 60% support among black voters, with Obama at 20%.
"So, why the difference with Obama?," Bode, a former CNN and NBC political analyst, asks. "The dominant theory is that, as the son of a white Kansas mother and a black Kenyon father
raised mostly in the white community, Obama is not sufficiently black. We're not talking about skin color here; we're talking about a black identity. Many black Americans, such as columnist Stanley Crouch, don't consider Obama as one of their own... What they are saying is that Barack Obama does not embody the collective experience of most African-Americans whose forebears suffered slavery and segregation and shared the bitter struggle for civil rights," Bode writes.
"Jesse Jackson epitomized all those things, but to many white voters he also was a constant rebuke, a painful reminder that there was more to be done on the American civil rights agenda. In that sense, Obama is more like Colin Powell than Jesse Jackson. Powell's successes were achieved in a parallel institution, the military, without much involvement with the civil rights agenda and its activists. Powell flirted with a presidential run in 1995, and like Obama today he was more popular with white voters than with black, for many of the same reasons. He was a black politician who didn't make whites uneasy."
The column explores the "cultural test" that Obama is being put to, and examines why Clinton is running well ahead of Obama with black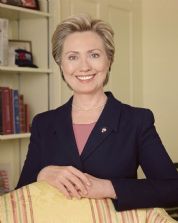 voters. "Most agree that it has less to do with her than with Bill," says Bode. The professor quotes Roger Wilkins, the historian and civil rights leader who is a frequent visitor to the DePauw campus. "Bill went out of his way to make black appointments, court black voters, and she was at his side when he did it," states Wilkins, "And blacks are loyal to people who they think have produced for them."
The former first lady seems to be getting the message. "These days, more often than ever, Sen. Clinton talks about 'Bill and I,'" reports Bode. "It is reminiscent of the early days of the 1992 campaign when Bill was convinced that bringing a Yale law graduate, a practicing attorney, along as first lady would be an asset. 'Buy one, get one free,' Clinton advertised until his pollsters noticed that primary voters were deeply skeptical of the bonus offer. So, Hillary was put on ice, demoted to second string, and it was then she made her bitter and enduring remark, 'Well, I could have just stayed home and baked cookies.' Now, however, Bill is her biggest asset in the upcoming primaries, so we are back to Plan A, a full Clinton

partnership, package deal."
Read the op-ed in its entirety at College News.org.
Last Friday, Ken Bode's column took Democrats to task for failing to produce a counterargument to the Iraq war. Learn more in this previous story.
Source: Indianapolis Star
Back