Enjoy Chamber Music for Cello and Piano at February 23 Recital
February 16, 2007
February 16, 2007, Greencastle, Ind. - Cellist Evan Jones joins pianist and DePauw University professor of music May Phang for an evening performance of chamber music for cello and piano next Friday, February 23. The recital, which is free and open to all, will take place in the Performing Arts Center's Thompson Recital Hall at 7:30 p.m.
Currently on the faculty of the Florida State University College of Music, Dr. Jones appears frequently as soloist, and has given the world premieres of works by Robert Morris and Ciro Scotto, as well as debuts of works by IannisXenakis, Dexter Morrill and Christopher Auerbach-Brown in the United States. He performs at a variety of music festivals, including the Scotia

Festival of Music, Musique Royale, and the Banff Centre for the Arts, as well as appearing as principal cellist of the Binghamton Philharmonic, the Orchestra of the Southern Finger Lakes, and the Montreal Chamber Players.
May Phang, a native of Singapore, performs widely as both a soloist and chamber musician. The winner of a number of events -- including the Chopin Young Pianists' Competition in Buffalo, New York; the Canadian Music Competition; Concours d'orchestre symphonique de Montreal; and Pontoise International Young Artists Competition in France -- Dr. Phang has performed with the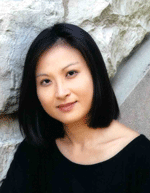 Banff Chamber Players, Singapore Symphony, Montreal Symphony and the Philadelphia Orchestra. She joined the DePauw faculty in 2003.
The upcoming collaboration of Jones and Phang will include sonatas by Beethoven, contemporary composer Miguel A. Roig-Francoli, and Johannes Brahms. Composed in 1984, the Sonata for Cello and Piano by Roig-Francoli is one of the several chamber works by the composer, who is also a music theorist and musicologist. The Sonata in D Major, by Johannes Brahms, is also of particular interest.
Originally the Sonata in G Major for violin and piano, Brahms transcribed the piece himself for the cello, making several changes from the violin score that help distinguish the sonata for the cello, including the change of tonality. Performances of the original sonata on the violin far out-number those on the cello, however, making this performance of the Brahms particularly exciting for the DePauw campus.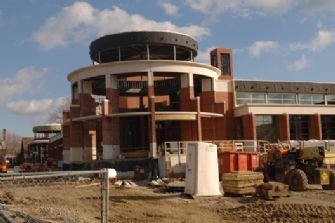 Visit the DePauw University School of Music by clicking here.
In October 2005, DePauw University announced that a $15 million dollar lead gift by Judson Green and his wife, Joyce Taglauer Green '75, will allow for a $29 million expansion and renovation of DePauw's 32-year-old Performing Arts Center (a recent photo of the construction is seen at right). The building, home to the School of Music and department of communication, will be known as the Judson and Joyce Green Center for the Performing Arts. Work is under way, and the first phase should be completed by the Fall of 2007. Learn more about the project in this previous story. You can see time lapse video of the construction project (updated regularly) by clicking here.
Back