A Perfect Season in Every Way: DePauw Unbeaten, Untied and Unscored Upon
November 18, 1933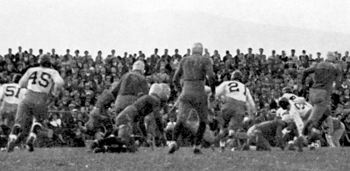 November 18, 1933, Crawfordsville, Ind. - The 1933 DePauw Tigers finished the football season the way they started it -- unscored upon -- capping an undefeated and untied campaign with a 14-0 victory over Wabash College today. Coach Raymond "Gaumey" Neal's Tigers outscored their opponents outscored their opponents 136-0 over the course of the remarkable seven game schedule.
The victory marks the first win in the battle for the Monon Bell, which was introduced to the DePauw-Wabash series last fall, a game that ended in a scoreless tie.
A "Monon Memory" of the historic 1933 team -- written, produced and narrated by Ken Owen '82 -- can be accessed here:

[Download Video: "1933 Monon Memory" - 6722kb]. It includes vintage photos
of the team, and video of the squad's return to campus 50 autumns after they made football history.
The 1933 Tiger gridders were the nation's last college football team to complete a season undefeated, untied, and unscored upon.
Access all Monon Memories here, and visit the Monon Bell Web page by clicking here.
Back