Nick Mourouzis Produced "A Long List of Successful Coaches," States Newspaper
January 19, 2007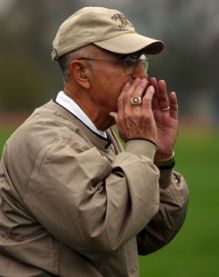 January 19, 2007, Greencastle, Ind. - "A long list of successful coaches ranging from Bears' tight end coach Rob Boras to national champion University of Florida defensive line coach/co-defensive coordinator Greg Mattison worked with or under Nick Mourouzis," begins a story in the Chicago area's Suburban Life. "So when the retired head coach at DePauw University in Greencastle, Ind., mentions Jeff Quinn in that group, it speaks volumes for Quinn's successful journey from a star player at Downers Grove North and Elmhurst College to a nationally respected offensive line coach and recruiter."
Quinn, a former assistant football coach at DePauw, was named interim head football coach at Central Michigan University in December, but his tenure was short lived. Earlier this month, CMU hired Butch Jones to lead the football program.
"Jeff came here as a graduate assistant in 1984," Mourouzis tells the newspaper, "and you could tell right away he was a very
good football coach. He was very enthusiastic, a great motivator. You knew he was going to be a success."
Dave Owen writes that the coach's "30-plus years of coaching experience included 23 years as DePauw head coach (where his career record was 137-87-4, and ex-DePauw player Boras and Quinn were among his many successful assistants). Mourouzis also previously served another decade as a Division I assistant (where he was on the staff of Indiana's 1967 Rose Bowl team and later worked with Mattison at Northwestern)."
Of Quinn, "Coach Nick" says, "He's a great motivator and a self-starter who takes great pride in his work and has excellent communication skills. I've always felt Jeff would be a great head football coach." He adds, "I could tell he was going to be a success. The kids really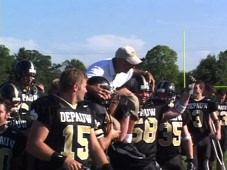 respected him, and having respect and being able to motivate are a great combination. In any line of work if your subordinates respect you, you can motivate the heck out of them."
Read the complete story at the newspaper's Web site.
Nick Mourouzis served as an assistant coach at last month's Aztec Bowl in Mexico, where DePauw defensive end Dustin Hertel helped lead Team USA to victory.
Back