Sophomore Entrepreneurs Featured in Kansas City Star
February 18, 2007
February 18, 2007, Greencastle, Ind. - "DePauw University student Ryan Tinker has a ways to go before he earns his college degree, but he's already a cog in America's entrepreneurial machine," begins a story published in today's Kansas City Star. "The 20-year-old sophomore from Overland Park collaborated with fellow DePauw student Zach Koch to start BookSnag.com in January 2006. With a $500 investment in computer equipment, the two created a Web site to help students at the small liberal arts school in Greencastle, Ind., save money buying and selling used textbooks."
The story by Steve Rosen notes that the entrepreneurial venture "has made waves on campus. The company attracted more than 300 customers a year ago, but this winter more than 800 DePauw students tapped into BookSnag at the beginning of the semester to exchange more than 700 books."
Students can list and sell their books on Booksnag for free. If a book is unavailable, buyers are redirected to Amazon.com, which pays Tinker and Koch a referral commission. "The best business ideas come out of necessity, just as BookSnag did," says Tinker, who is a Management Fellow at DePauw.
Rosen points out, "Tinker began to develop his business talents in grade school, thanks partly to Junior Achievement activities. Entrepreneurship also runs in his family. One of the business lessons Tinker has learned is that teachable moments can come from dealing with adversity. 'The only way to experience failures is to experiment,' he said. 'Try out new things, push the limits, make decisions on your best guess.'"
The Star adds, "The DePauw duo are among a growing number of young entrepreneurs running a business. According to the Small Business Administration's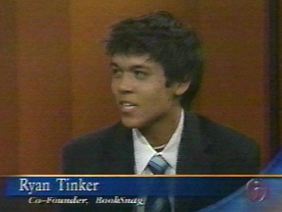 Office of Advocacy, 188,000 self-employed people were under the age of 21 in 2005, compared with about 142,000 in 2000."
Read the lengthy story in its entirety at the newspaper's Web site.
Ryan Tinker and Zach Koch discussed their venture on the statewide television program, Inside Indiana Business, last October. A story -- including video clips from the show -- can be found here (above right: Koch, Tinker and program host Gerry Dick).
Visit BookSnag.com by clicking here.
Back