Oprah Senior Associate Producer Sarah Ruth '95 Returns for Crain Lecture, February 28
February 20, 2007
[UPDATE 2/23: This event has been canceled.]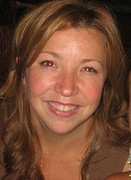 February 20, 2007, Greencastle, Ind. - Sarah C. Ruth, senior associate producer of television's Oprah Winfrey Show and 1995 graduate of DePauw University, returns to the Greencastle campus Wednesday, February 28, as a guest of the Gertrude and G.D. Crain Jr. Lecture Series. In a conversation moderated by Ken Bode, Eugene S. Pulliam Distinguished Visiting Professor of Journalism at DePauw, Ruth will discuss her work on the hit show at 7 p.m. in Watson Forum of Pulliam Center for Contemporary Media. The program is free and open to all.
The Oprah Winfrey Show has remained the number one U.S. talk show for all 20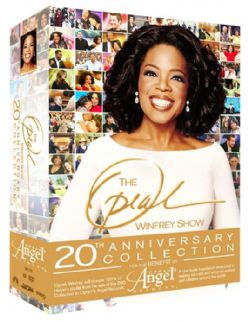 seasons it's been on the air and has received more than 40 Daytime Emmy Awards®. The program is seen by an estimated 48 million viewers a week in the United States and is broadcast internationally in 126 countries.
Ruth joined Winfrey's Harpo Productions in August 2006. In her role as senior associate producer, she writes and produces taped and live segments that appear on the show.
Previously, Ruth served ABC's Good Morning America for five years in a variety of roles, including senior associate producer weekend senior producer and coordinating anchor producer for Robin Roberts. She began her career in July 1995 -- shortly after receiving her DePauw degree in communication with a minor in political science -- working for CNN. In her six years with the cable news outlet, Ruth was White House producer and managing editor of the assignment desk.
Endowed by Rance Crain, president of Crain Communications and a member of DePauw's Class of 1960, The Gertrude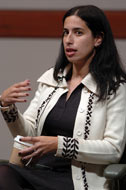 and G.D. Crain Jr. Lecture Series honors Mr. Crain's parents.
Previous Crain Lecturers have included: David Keene, chair of the American Conservative Union, and Roger Wilkins, a noted civil rights leader, historian, and Pulitzer Prize-winning journalist; Wall Street Journal reporter and 1996 DePauw University graduate Aaron Lucchetti; veteran political columnist Jack Germond; Samantha Power, author of A Problem from Hell: America and the Age of Genocide; Emily Wax (pictured at left), Africa Bureau Chief of the Washington Post, and her husband, Raymond Thibodeaux, who also covers the region for Cox News, Voice of America and the Boston Globe; political analyst Charlie Cook; military sociologist Charles Moskos; historian Douglas Brinkley, author of Tour of Duty: John Kerry and the Vietnam War; and Joe Trippi, who managed Howard Dean's presidential campaign.
Back