Senator Bill Clinton? Prof. Ken Bode Talks of the Possibility in Newsday
February 20, 2007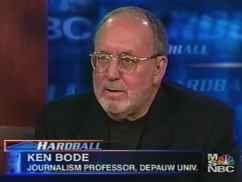 February 20, 2007, Greencastle, Ind. - "There was a period of time in Bill Clinton's life, during his Georgetown and Rhodes Scholar years, when he wanted to be the senator from Arkansas," Ken Bode tells New York's Newsday. DePauw University's Eugene S. Pulliam Distinguished Visiting Professor of Journalism is quoted in a story published today that examines the possibility of Bill Clinton being appointed to the U.S. Senate seat in New York now held by his wife, should Hillary Rodham Clinton succeed in her bid for the presidency.
"This wouldn't be the first time that the thought crossed Bill Clinton's mind -- if it's really crossed his mind" of late, Dr. Bode says.
The article notes Bode's DePauw professorship and his experience as an NBC political analyst. Of a former president simultaneously serving in the Senate and as "first husband," Bode states, "The biggest problem with this idea is that he would be very seriously circumscribed about what he could say about the president. This is a guy with a vastly roaming intellect. I just question whether he'd be interested in the job, given that he would have to be quiet about the president."
Glenn Thrush writes, "There is scant historical precedent for such an appointment. The road from the Senate to the White House has thus far been a one-way street, with seven sitting senators ascending to the presidency. Hillary Clinton would be number eight and the first since John F. Kennedy in 1960. The sixth president, John Quincy Adams, served in the House of Representatives for 16 years after he lost his presidential re-election bid in 1829. William Howard Taft, the nation's 27th and bulkiest chief executive, was appointed chief justice of the Supreme Court after he left office in 1913."
Read the complete text at Newsday's Web site.
Ken Bode examined the lead Hillary Clinton holds among African-American voters in an op-ed column in last Friday's Indianapolis Star.
Source: Newsday
Back