Both Tiger Teams Top Seeded in SCAC Basketball Tournaments
February 20, 2007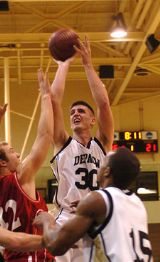 February 20, 2007, Greencastle, Ind. - "Winning streaks are the basketball norm at DePauw University, no matter what the gender," begins today's column by John Mutka in Gary, Indiana's Post-Tribune. "In Tiger town their men and women clinched top seeds over the weekend for the Southern Conference tournament. DePauw's men will take an 11-game winning streak into the tournament, which begins Friday at Memphis University... The Lady Tigers (22-3) walloped Oglethorpe to extend their home conference winning streak to 33 games. They travel to Rhodes, where first-round play begins Friday," he writes.
The newspaper story also notes the contributions of Cassie Pruzin and Matt McDonald, who grew up in the region.
Read the complete article, headlined "DePauw
cleaning up on the basketball court," by clicking here.
For comprehensive coverage of Tiger basketball, visit the athletic Web page. Listen live to SCAC tournament games beginning Friday at 7 p.m. (Greencastle time) via student radio station WGRE.
Back