CNN Sr. White House Producer Tim McCaughan '93 Presents Crain Lecture on March 7
March 1, 2007
March 1, 2007, Greencastle, Ind. - The Gertrude and G.D. Crain Jr. Lecture Series welcomes its first guest of the spring on Wednesday, March 7, when Tim McCaughan comes to the DePauw University campus. Senior White House producer for CNN and a 1993 graduate of DePauw University, McCaughan will discuss his work in a program that begins at 4:15 p.m. in the Pulliam Center for Contemporary Media's Watson Forum. All are welcome to attend the event, which is presented without charge.
McCaughan, who majored in English composition at DePauw, earned an Emmy Award as part of the CNN team covering the terror attacks of September 11, 2001. He has traveled to more than three dozen countries and all fifty states covering President Bill Clinton and the entirety of President George W. Bush's tenure.
Prior to assuming his current role, McCaughan supervised the network's Washington assignment desk during a period which included the Monica Lewinsky scandal and the subsequent impeachment of President Clinton. He has 15 years of experience working in journalism in Washington, D.C.
Endowed by Rance Crain, president of Crain Communications and a member of DePauw's Class of 1960, The Gertrude and G.D. Crain Jr. Lecture Series honors Mr. Crain's parents. Previous Crain Lecturers have included: David Keene, chair of the American Conservative Union, and Roger Wilkins, a noted civil rights leader, historian, and Pulitzer Prize-winning journalist (seen together in picture below); Father Richard P. McBrien, Crowley-O'Brien Professor of Theology at the University of Notre Dame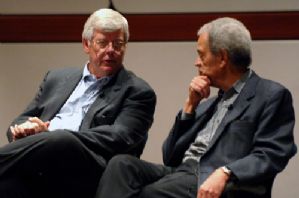 and a consultant to ABC News for papal events; political analyst Charlie Cook; FactCheck.org director Brooks Jackson; Wall Street Journal reporter and 1996 DePauw University graduate Aaron Lucchetti; veteran political columnist Jack Germond; Samantha Power, author of A Problem from Hell: America and the Age of Genocide; Emily Wax, Africa Bureau Chief of the Washington Post, and her husband, Raymond Thibodeaux, who also covers the region for Cox News, Voice of America and the Boston Globe; historian Douglas Brinkley, author of Tour of Duty: John Kerry and the Vietnam War; and Joe Trippi, who managed Howard Dean's presidential campaign.
Back