DePauw Theatre Presents Inherit the Wind, March 8-11
February 23, 2007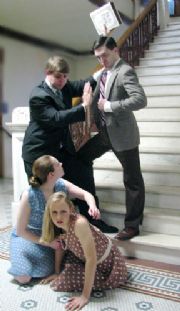 February 23, 2007, Greencastle, Ind. - DePauw Theatre will present the American classic, Inherit the Wind, March 8, 9, 10, and 11. Performances of the Jerome Lawrence and Robert E. Lee dramatization of the famous Scopes "monkey trial" will take place Thursday, Friday and Saturday at 7:30 p.m., and Sunday at 2:30 p.m. in the DePauw University Performing Art Center's Moore Theatre.
Inherit the Wind is based on the 1925 court case that argued the right of Dayton, Tennessee teacher John Scopes to teach Charles Darwin's theory of evolution to a high school science class at a time when state law mandated the teaching of creationism. Tennessee vs. John Thomas Scopes pitted two of the country's finest lawyers, Clarence Darrow and Williams Jennings Bryan (seen in photo below left), in a twelve-day battle that spawned a media circus and captured the attention of the entire nation.
However, the play is not a documentary. Written in 1950, playwrights Lawrence and Lee intended it as a vehicle to explore the threats to intellectual freedom being posed by the anti-Communist hysteria of the McCarthy era. While the play's
characters are loosely based on Scopes, Darrow, Bryan, and journalist H.L. Mencken, and portions of Darrow's arguments are included nearly verbatim, Inherit the Wind character Matthew Harrison Brady delivers a summation that much more closely resembling the fanatical tirades of Joseph McCarthy than the intelligent reasoning of Williams Jennings Bryan.
Inherit the Wind opened on Broadway in 1955 to rave reviews. Audiences at the time understood the play as a critique of McCarthyism. Now, after three film adaptations and more than 50 years, audiences are more apt to be fascinated by the play for its timely debate of creationism vs. evolution.
Directed by Steve Timm, professor of communication and theatre at DePauw, Inherit the Wind has been hailed as one of the great American plays of the 20th century, and its themes of religious belief, religious tolerance, and freedom of thought resonate to the present day.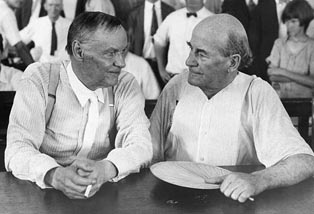 Tickets for the production are $3 for students and $6 for adults, and are available for purchase at the DePauw University Performing Arts Center box office. Information and reservations are available by calling (765) 658-4827 or emailing pacboxoffice@depauw.edu.
If you purchase a DePauw Theatre patron pass, you're entitled to five tickets for the price of four, which may be used in any combination throughout the season. The passes are available for both students and adults. To purchase or obtain additional information, contact the Performing Arts Center box office at the contacts listed above.
Back