"Role Model" Percy Julian '20 Featured in Humanities and Dallas Morning News
February 22, 2007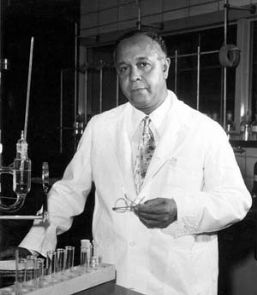 February 22, 2007, Greencastle, Ind. - The research of Percy Julian "strikes me as the kind of science that an artist would do," Gregory Petsko, director of Brandeis University's Rosenstiel Basic Medical Sciences Research Center, says in the latest edition of Humanities. The magazine is published by the National Endowment for the Humanities (NEH), which provided $460,000 in funding for the NOVA program, "Forgotten Genius," which traced the accomplishments and struggles of Julian, a 1920 graduate of DePauw University.
"The drawback was, there was no biography" of Percy Julian, says Stephen Lyons, one of the film's producers. Lyons and his NOVA colleagues made several trips to DePauw to conduct interviews and collect information on his life, beginning in May 2002. The late Donald "Jack" Cook, professor emeritus of chemistry, makes several appearances in "Forgotten Genius" (which aired nationally February 13), and there are shots of East College and the Percy Lavon Julian Science and Mathematics Center, and of the bust of Dr. Julian that is displayed in the atrium of the building that was named in his honor.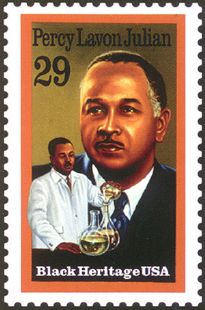 As a student at DePauw, "Julian attracted the notice of chemistry professor William Blanchard, whose enthusiasm allowed Julian to envision for himself a future in research, although only one African-American had ever earned a doctoral degree in chemistry," writes Humanities' David Taylor. "Julian graduated from DePauw in 1920 at the top of his class."
The three-page article, "Percy Julian: Against the Odds," also details the racial barriers Julian faced while an undergraduate and through his lifetime.
Those struggles are illustrated in a Dallas Morning News story on Dr. Julian, in which David Flick writes of a "little-known incident in Dallas ... In February 1956, he wrote a letter to the president of the American Chemical Society, protesting an announcement of an upcoming ACS meeting in Dallas that included a listing of 'Hotels for Colored Persons.' He denounced the arrangements as 'ridiculous' and warned that the society risked a boycott of its meeting by black chemists and sympathetic whites."
The column includes the text of the letter and a comment from U.S. Rep. Eddie Bernice Johnson (D-Texas), who sponsored a resolution honoring Percy Julian that was passed by Congress
last month. "I want to be sure that he can be a role model for what young people can achieve."
Read more at the Dallas Morning News, and visit the NEH by clicking here.
An op-ed by DePauw President Robert G. Bottoms on the life of Percy Lavon Julian and the lessons we can learn from his work and perseverance was published February 6 in the Indianapolis Star. Dr. Bottoms also wrote a letter to the editor on Dr. Julian that appeared in the Chicago Tribune. Previews of the NOVA program were published in dozens of newspapers, including the New York Times.
Visit DePauw's Percy Julian Web site by clicking here.
Back