Voice of America Features Percy Julian '20
February 24, 2007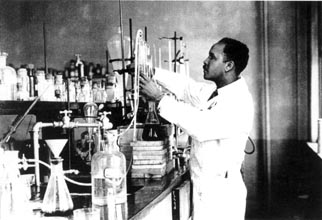 February 24, 2007, Greencastle, Ind. - "After returning from Austria, [Percy] Julian got a research grant from DePauw University, where he had done his undergraduate studies," notes a Voice of America report today on the 1920 graduate. "He gained worldwide recognition for synthesizing physostigmine, a drug used to treat glaucoma." The report, which appears in text form and can be downloaded as an audio file, discusses the NOVA program, "Forgotten Genius," which tells Dr. Julian's remarkable story.
"Percy Julian's work with steroids is considered one of the 20 greatest achievements in American chemistry, according to documentary film producer Llew Smith," reports Susan Logue. "Julian was born in Montgomery, Alabama, in 1899. In the segregated South where he grew up, schools for African-Americans didn't go beyond the eighth grade. But Smith explains that Julian's parents wanted more for their son, so in 1916, they sent young Percy off to DePauw University in Indiana."
Logue's report details the struggles the scientist faced as he worked to earn a Ph.D., and the racial barriers that were put in Julian's path throughout his career. His research led to more than 100 patents and life-saving treatments. "Forgotten Genius" premiered on PBS February 6.
Smith tells VOA, "Julian received a number of honorary degrees and was appreciated in his lifetime, and even today, before I came to know about him, many chemists knew who he was. But (the general population,) we've pretty much forgotten who he was and what he accomplished in his time."
Percy Lavon Julian received an honorary doctorate from DePauw (1947); was awarded the Old Gold Goblet (1950) and the McNaughton Medal for Public Service (1972); was a member of the University's Board of Trustees and helped plan the science and mathematics center that was named for him in 1980; and Dr. Julian's family endowed scholarships at DePauw and a fund for chemistry research and lectures. He died in 1975.

[Download Video: "Percy Julian Receives McNaughton Medal" - 2914kb]
Access the complete Voice of America story by clicking here.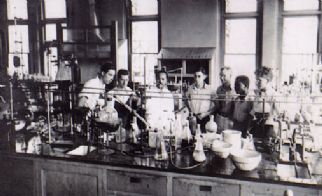 Julian and the NOVA program that honors him have received a flurry of attention in national media in recent weeks. Previews of "Forgotten Genius" were published in dozens of newspapers, including the New York Times. There have also been profiles in Humanities magazine and the Dallas Morning News. An op-ed by DePauw President Robert G. Bottoms on the life of Percy Julian and the lessons we can learn from his work and perseverance was published February 6 in the Indianapolis Star. Dr. Bottoms also wrote a letter to the editor on Dr. Julian that appeared in the Chicago Tribune.
Visit DePauw's Percy Julian Web site by clicking here.
Back