New York Times Writes of Delta Zeta National's "Membership Review" at DePauw and Fallout That Has Followed
February 25, 2007
Read the Letter of Reprimand to DZ National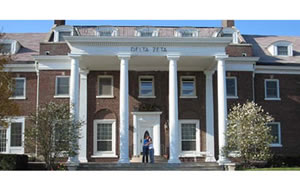 February 25, 2007, Greencastle, Ind. - A "membership review" by Delta Zeta's national leadership of the sorority's DePauw chapter, which led to 23 women being placed on "alumni status" and left fewer than ten women in the house, is the subject of a story in today's New York Times. "DePauw's president, Robert G. Bottoms, issued a two-page letter of reprimand to the sorority," Sam Dillon reports, adding, "In an interview in his office, Dr. Bottoms said he had been stunned by the sorority's insensitivity."
"I had no hint they were going to disrupt the chapter with a membership reduction of this proportion in the middle of the year," Dr. Bottoms tells the newspaper. "It's been very upsetting."

Dillon's story recounts in detail the national chapter's moves and the resulting "student protests, outraged letters from alumni and parents, and a faculty petition calling the sorority's action unethical."
It quotes Bob Hershberger, professor and chairman of modern languages at DePauw, who organized the petition drive. Fifty-five faculty members signed the document condemning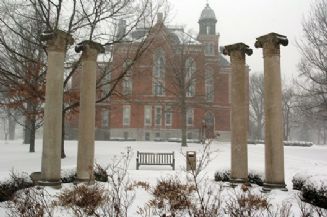 the actions of DZ national. "We were especially troubled that the women they expelled were less about image and more about academic achievement and social service," Dr. Hershberger tells the Times.
Read the complete story by clicking here.
The letter of reprimand that the article refers to -- sent by President Bottoms to Deborah A. Raziano, national president of Delta Zeta -- can be accessed by clicking here. A December 20, 2006 note to the campus community on the DZ situation can be found here.
Back