Atlanta Gala Performance to be Previewed On Campus Sunday
February 28, 2007
Also: Unprecedented Program for Atlanta-Area Alumni
February 28, 2007, Greencastle, Ind. - On Sunday, March 4, DePauw University students, faculty members and staff can get an sneak peek at a program that will be presented March 17 in Atlanta for an unprecedented DePauw University alumni gala. You're invited to enjoy "From the American Heart" at 3 p.m in the Performing Arts Center's Kresge Auditorium. A "prism-style" concert, with quick shifts between ensembles in various locations on stage and in the hall, will preview the concert to be given in Georgia two weeks later and is free and open to the public.
The program features performances by all of the DePauw School of Music's major ensembles -- the Symphony Orchestra, Chamber Singers, Jazz Ensemble, and University Band -- as well as the smaller chamber ensembles -- the Percussion Ensemble, Jazz Quintet, and the Chamber Players. The concert displays the extraordinary versatility of the School of Music ensembles, as well as the performance opportunities presented to DePauw students.
"From the American Heart" reflects both DePauw's home in the heartland of America, as well as the American-themed compositions that the program features. American composers whose works will be heard in the program include Leonard Bernstein, David Samuels, Paul Creston, Duke Ellington and Dizzy Gillespie.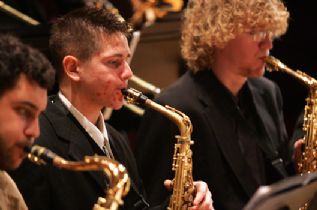 Involving more than 140 members of the DePauw School of Music, the concert will be performed again as part of the Atlanta Gala on Saturday, March 17, at the Woodruff Center, home to the Atlanta Symphony Orchestra. After that day's 4 p.m. concert, DePauw's musicians will also join in an alumni reception at the adjacent High Museum, featuring private access to the current Decorative Arts of Kings exhibit from the Louvre and entertainment by the DePauw Jazz Ensemble.
Tickets are $15 for the Atlanta concert, and may be purchased by calling the Woodruff Center Box Office at (404) 733-5000. Complementary concert tickets are available for prospective students.
Back