This Site Attracted Record 21.4 Million Hits, 382K Unique Visitors in February
March 1, 2007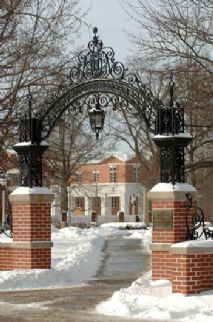 March 1, 2007, Greencastle, Ind. - Records at DePauw.edu fell like the heavy snows that blanketed the Greencastle campus during the month of February, as the University's Web site set new highs in every major category. Unique visitors to the site totaled almost 383,000 -- about 100,000 greater than the previous all-time high and double the amount from February 2006. The number of "hits" the site experienced, which had never eclipsed 20 million before, wound up exceeding 21.4 million for the month.
"Considering that the month of February is the shortest month of the year, these are remarkable results," says Daniel J. Pfeifer, chief technology officer. "The national coverage that the events at Delta Zeta sorority provided a major driver of first-time users of our site, but this was shaping up to be a remarkable month even without that. It's a credit to our content creators Ken Owen '82 (director of media relations) and Bill Wagner (sports information director), as well as DePauw's Web team of Jason Shore, Myrna Gray and Bryan Fleming, that we were able to keep our site vibrant, informative and user-friendly."
A total of 119 new stories appeared on the news section of the site last month (even more were added to the athletics area). The New York Times' coverage of the Delta Zeta national leadership's "membership review" of the DePauw chapter was the month's most-read article, with more than 13,200 views. Also getting much attention (more than 9,000 "hits" each) were the follow-up stories as former members of the DZ chapter appeared on CNN and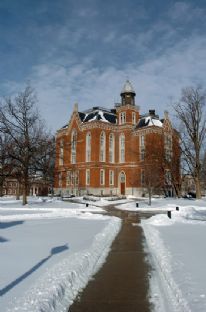 ABC. Other top draws: news that DePauw's alumni giving rate is the second highest among all Indiana colleges and universities; the announcement of Starbucks USA President and 1983 graduate Jim Alling's March 13 Ubben Lecture; a sophomore being named a finalist in the "most promising CEO" contest; two other sophomores getting notice for their online business venture; Professor Ken Bode's op-ed column on Hillary Clinton's lead among African-American voters; and President Robert G. Bottoms' Indianapolis Star salute to the pioneering chemist and 1920 DePauw graduate, Percy Lavon Julian.
Visitors to DePauw.edu may have noticed that the site has been redesigned; the new look -- overseen by Madeleine Eagon Rhyneer, vice president for strategic communication -- was officially rolled out at noon today. "We're excited about the new graphic design of DePauw.edu as well as improvements in the ways vistors can navigate the site," says Pfeifer. "One of the biggest accomplishments of this redesign, the third in seven years, is the fact that we've done it completely in-house. We're really fortunate to have such great talent here at DePauw."
| | | | | |
| --- | --- | --- | --- | --- |
| | Hits | Unique Visitors | Visits | Page Views |
| February 2007 | 21,460,584 | 382,955 | 1,211,830 | 4,221,883 |
| Feb. 2006 | 17,968,861 | 195,583 | 900,962 | 4,205,249 |
| Feb. 2005 | 12,059,189 | 159,844 | 691,871 | 2,961,940 |
| Feb. 2004 | 8,528,672 | 152,576 | 481,346 | 1,930,078 |
| Feb. 2003 | 7,171,876 | 74,368 | 364,232 | 1,428,953 |
| Feb. 2002 | 5,602,013 | 54,518 | 275,404 | 1,046,003 |
| Feb. 2001 | 3,233,104 | 27,633 | 164,333 | 792,252 |
("hits" is a count of all the successful hits including HTML pages, pictures, forms, scripts and files downloaded; unique visitors counts each user once per month; visits counts every time a user visits the site)
Back