Prof. Scott Decker '72 Publishes International Handbook of Juvenile Justice
March 19, 2007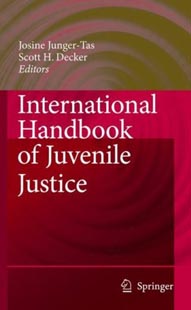 March 19, 2007, Greencastle, Ind. - International Handbook of Juvenile Justice, co-edited by Scott H. Decker, a 1972 graduate of DePauw University, has been published by Springer. Decker, professor and director of the School of Criminology and Criminal Justice at Arizona State University at the West Campus, collaborates on the book with Josine Junger-Tas.
"This comprehensive reference work presents inside information on the juvenile justice systems in 19 different countries, both in EU-member states (old and new ones) as well as in the United States and Canada," states a synopsis of the text. "The book is the result of research conducted by a group of outstanding researchers working in the field

of juvenile justice, who are concerned about some of the trends in juvenile justice in the last two decades, where the border between criminal justice and juvenile justice tends to fade."
Read more by clicking here.
Access a previous story on Scott Decker here.
Back