Lee Hamilton '52 Appointed to 'War Powers Commission'
February 28, 2007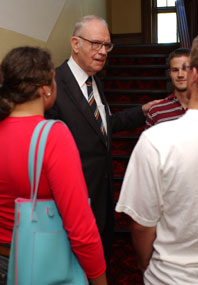 February 28, 2007, Greencastle, Ind. - Lee H. Hamilton, a retired member of Congress and 1952 graduate of DePauw University, is one of 12 members appointed to "a private, bipartisan panel to study a lingering and gnawing national question: Who does the Constitution say has the power to begin, conduct and end wars." The creation of the committee -- which will be co-chaired by former secretaries of state Republican James Baker and Democrat Warren Christopher -- is the subject of an article distributed today by the Associated Press. "The war powers study is sponsored by the private Miller Center of Public Affairs at the University of Virginia."
The AP notes that Hamilton and Baker co-chaired the Iraq Study Group. "That panel, which was authorized by Congress, achieved wide notice as [President] Bush was considering how to reshape the U.S. role in Iraq, and its findings have been embraced by many members of both parties. Bush ended up deciding to send extra troops to the war zone -- essentially ignoring its recommendation that the U.S. remove its combat troops by early next year."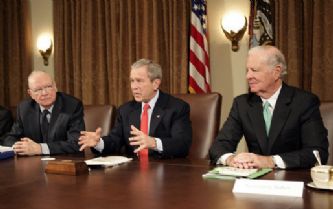 Read the complete text at the Web site of Texas' El Paso Times.
Lee Hamilton, who spent 34 years in the U.S. House of Representatives, also served as vice chair of the 9/11 Commission and has been recently praised for his bipartisanship and pragmatism by the New York Times and Chicago Tribune, among other publications. He was on the DePauw campus in October to discuss the Iraq war and other matters at DePauw Discourse 2006: Issues for America. Access a story -- including video and audio clips -- here.
Back