School Program Honors Percy Julian '20 and Other African-American Legends
March 2, 2007
March 2, 2007, Greencastle, Ind. - "Dressed in a suit and tie with a stethoscope around her neck, Donna Trowbridge, 10, introduced herself as Percy Lavon Julian, founder of Julian Laboratories and a pioneer in the research and development of synthetic steroids. He studied chemistry an Indiana's DePauw University," notes a story in the Gary Post-Tribune. The newspaper reports on a Black History Month program at Liberty Elementary School, where fourth graders presented a "living history lesson ... [forming] their own corps of re-enactors to become the people they had studied throughout the month for all the other students."
Trowbridge, in her role as Dr. Julian, a 1920 graduate of DePauw, told the assembly, "I developed over 110 patents. I developed a special drug that saved thousands from blindness."
Read the article, which appears in today's newspaper, by clicking here.
Percy Julian's remarkable story was told in a two hour NOVA program, "Forgotten Genius," which aired February 6 on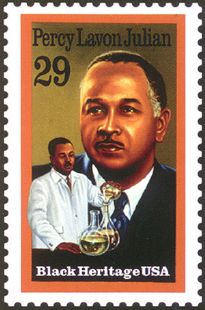 PBS. The pioneering scientist, who died in 1975, received a flurry of attention in national media in recent weeks. Previews of "Forgotten Genius" were published in dozens of newspapers, including the New York Times. There have also been profiles in Humanities magazine and the Dallas Morning News and on Voice of America.
An op-ed by DePauw President Robert G. Bottoms on the life of Percy Julian and the lessons we can learn from his work and perseverance was published February 6 in the Indianapolis Star. Dr. Bottoms also wrote a letter to the editor on Dr. Julian that appeared in the Chicago Tribune.
Visit DePauw's Percy Julian Web site by clicking here.
Back