DePauw Women Advance to Second Round of NCAA Tourney; Men Lose Heartbreaker in OT
March 2, 2007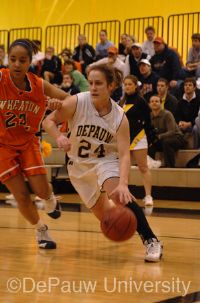 March 2, 2007, Greencastle, Ind. - DePauw University's women's basketball team advanced in the NCAA Division III tournament tonight in decisive fashion, knocking off Transylvania, 74-54. DePauw's Gretchen Haehl led all scorers with 18 points. Cassie Pruzin and Liz Bondi added 10 each, and Jenna Hernandez grabbed 11 rebounds. The 26-3 Tigers move on to a second round matchup with Denison tomorrow at 7 p.m. which, like tonight's game, will be played at DePauw's Neal Fieldhouse.
Earlier in the day, Denison upset defending Division III champion Hope College, 82-66.
Meanwhile, a three-point shot as time expired in overtime sent DePauw's men to defeat, as Whitworth University sent the Tigers home in the first round of the NCAA Division III men's tournament, 62-59. Austin Brown led DePauw with 15 points in the game played at Washington University in St. Louis. The Tigers end the season with a 22-6 record. Whitworth advances in the tourney with a 24-3 mark.
For comprehensive coverage of Tiger athletics, including detailed stories and
statistics from tonight's games, click here.
Listen to DePauw basketball live via student radio station WGRE.
Back