Prof. Bob Hershberger Authors Alternate Edition of Interactive Spanish Textbook
April 17, 2007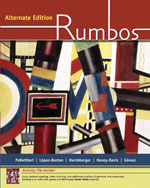 April 17, 2007, Greencastle, Ind. - A new, alternate version of Rumbos -- a second-year, interactive Spanish textbook authored by Robert Hershberger, associate professor of modern languages (Spanish) at DePauw University -- is now available. Bundled with a compact disc, the latest edition features entirely new video content, and more accessible literary readings.
"The Rumbos alternate edition is our commitment to making a good textbook even better," says Dr. Hershberger. "It's unusual for the publisher (Thomson Learning) to offer an alternative version of a textbook during its first edition, so we're excited about their confidence in our product."
The professor adds, "The alternate edition provides several new literary readings that are more accessible to our students.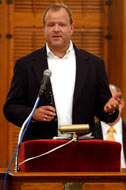 Feedback from our own students and professors here at DePauw were instrumental in guiding us to consider different options for the literary readings. The video content of the alternate version is also more compelling and a better match to the chapter themes."
Professor Hershberger also co-wrote Plazas, a first-year, interactive Spanish textbook that allows students to hear the recorded voices of people from 15 different Spanish speaking countries, so they can learn the proper pronunciation of words and become better listeners and more understanding of cultural and regional nuances. Next month, a third edition of Plazas will be released as part of the Thomson Now Live series.
Learn more at the publisher's Web site, and in this previous story.
Back