Prof. Matt Hertenstein Receives National Institutes of Health Grant
March 10, 2007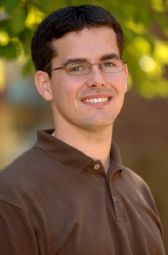 March 10, 2007, Greencastle, Ind. - The National Institutes of Health (NIH) has awarded a grant of $139,719 to Matthew Hertenstein, associate professor of psychology at DePauw University, for a project entitled, "Infant Sensitivity to Televised Emotional Displays." Dr. Hertenstein's Emotion Lab, based at DePauw and staffed by undergraduates, studies infant emotional development as well as tactile communication in adulthood.
"One of the most significant developments in the emotional life of infants is social referencing," wrote Hertenstein in a description of his project. "Social referencing occurs when infants regulate their behavior toward an undefined object or event as a function of the emotional displays of another. One of the most striking gaps in our knowledge is how adults' emotional expressions on television influence infants' emotional displays and reactions."
The professor continues, "The lack of empirical attention given to this topic is surprising given that infants, on average, watch over 500 hours of television a year despite the American Academy of Pediatrics' recommendation that children under the age of 2-years-old not watch television of any kind. The broad goal of this proposal is to initiate a program of research that extends significantly our knowledge of how televised emotional displays influence infant emotional behavior."
Research conducted by Matt Hertenstein and his students was featured on National Public Radio in October. Previous media coverage includes placement in Parenting, Child, the Christian Science Monitor and Child Development.
Visit the Emotion Lab by clicking here.
Back