Hiring of New Executive Producer at CBS "Curious" to Prof. Jeff McCall '76, A Guest on O'Reilly Radio Show
March 8, 2007
March 8, 2007, Greencastle, Ind. - CBS' hiring of Rick Kaplan to serve as executive producer of its Evening News with Katie Couric is a "particularly curious" move, Jeffrey M. McCall, professor of communication at DePauw University, told Bill O'Reilly's nationally syndicated radio program this afternoon.

[Download Audio: "Dr. McCall on Kaplan" - 86kb] "He is associated with the Bill Clinton operation, he's a close personal friend -- that's been published in any number of reports," McCall noted. The professor adds that Kaplan -- former president of CNN and MSNBC -- comes to his new job with a spotty record in terms of increasing ratings.
Dr. McCall, author of the upcoming book Viewer Discretion Advised: Taking Control of Mass Media Influences, continued,

[Download Audio: "Recycling" - 113kb] "For CBS to be recycling him ... an knowing that he's an identifiable liberal -- and I'm not using that in a critical sense, but he is identifiable -- it would seem to me like CBS would benefit
more by trying to get some fresh faces and some new ideas rather than to recycle a network executive who's kind of been around the block."
Jeff McCall offered an assessment of Couric's program -- which is #3 behind ABC and NBC -- in a December 18, 2006 op-ed in the Indianapolis Star. On today's program, which aired on almost 400 stations, he recounted some of her questions to government officials that were not queries, in his view, but commentaries.

[Download Audio: "An Appearance of Bias" - 266kb] "Couric has been viewed -- particularly on the conservative Web sites -- she's viewed as leaning left to start with. So you bring in Kaplan, who's an identifiable liberal -- it makes you wonder whether the newscast can go forward in an objective manner." The professor believes "You can have people who have ideologies and still do professional, solid journalism. But I think it makes it harder if the leaders of your organization are identifiable."
It is the opinion of O'Reilly that almost all of the mainstream media are "lining up to elect a Democrat to the White House in 2008."As evidence, he played an excerpt of an NBC News report in which the situation in Iraq was described as "very dire."

[Download Audio: "Avoiding Superlatives" - 118kb] "One thing when I teach my journalism students here I say is, you leave out superlatives -- you don't you words like 'very,' 'a lot,' and that sort of thing -- because they can't be quantified, they can't be measured. So, how much is 'very dire' versus 'a little dire' versus just 'okay'?," McCall asked.
A 1976 graduate of DePauw, McCall believes

[Download Audio: "A Lurch?" - 217kb] "there's a sense by the major networks that the nation has lurched left as a result of the November elections and that they're trying to cater to that.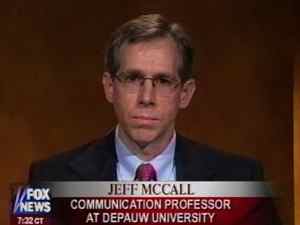 I think that might be a programming mistake, because even though the Democrats made some ground up, certainly, in the elections, I'm not sure that's the sign of a national lurch." The professor continued, "I would think the best way to get ratings ... for those network newscasts is ro do good, solid journalism, leave the ideologies out of the way, and if you've got commentary put it in labeled as commentary."
McCall, who also appeared on O'Reilly's radio program January 30, has been a guest on O'Reilly's FOX News program -- the most-watched on cable television -- six times in the past. He recently discussed the proposed merger of satellite radio companies Sirius and XM in Toronto's Globe and Mail.
Back