Enjoy Art & Music, 'Percussion at Peeler,' March 21
March 18, 2007
Also: DePauw Biennial Continues through May 10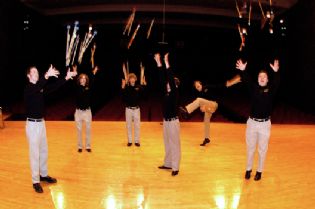 March 18, 2007, Greencastle, Ind. - The second edition of "Percussion at Peeler," a presentation of contemporary music and contemporary art, will take place on Wednesday, March 21 at 6:30 p.m. as part of the DePauw Biennial. The concert will take place in the Richard E. Peeler Art Center gallery and is free and open to the public. Visitors are free to view the art exhibition as the percussionists perform throughout the gallery space, using the art works as a backdrop to the music.
Students from the DePauw percussion studio will perform works in a variety of styles by such composers as John Cage, Steve Reich, and Alan Hovhaness to complement paintings, sculpture, and video installations by contemporary artists from Illinois, Indiana, Kentucky and Ohio.
The presentation is a co-production of Kaytie Johnson, curator of the Peeler Galleries, and Amy Lynn Barber, director of the percussion studio.
Visit the DePauw University School of Music by clicking here. You can learn more about the Peeler Art Center here.
Back