Chamber Singers Present 'Even Such is Time' Wednesday
March 12, 2007
March 12, 2007, Greencastle, Ind. - The DePauw Chamber Singers will present "Even Such is Time," the ensemble's first concert of the semester, on Wednesday, March 14 at 7:30 p.m. The performance will take place in the Performing Arts Center's Thompson Recital Hall and is free and open to the public.
The Chamber Singers are composed of 25 vocalists, both music and liberal arts majors, under the direction of Gabriel Crouch. "Even Such is Time" will be presented on the eve of their departure for Atlanta where they will perform March 17 in the famous Woodruff Center -- home of the Atlanta Symphony -- in a first-of-its-kind alumni event.
"Even Such is Time" contains a variety of works, each presenting a perspective on the nature of human existence: our time on earth, the possibility of a life beyond, and our responsibilities to each other and to ourselves.
The texts are drawn from some of the great philosopher-poets of the 17th Century: Benedict de Spinoza, Edmund Spenser, John Donne, Voltaire, and Walter Raleigh, whose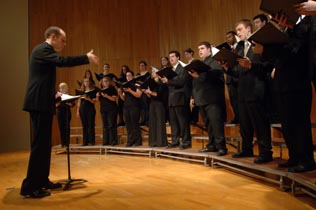 extraordinary poem Even Such is Time, penned on the eve of his execution and found in his prison cell after his death, inspired this program.
The DePauw Chamber Singers are thrilled to announce a concert tour of China in January 2008. Beginning in the Olympic City of Beijing, they will perform in many of the country's most famous concert halls and music conservatories, including the Shanghai Conservatory, the Hangzhou Concert Hall and Hong Kong's Kowloon Baptist University.
Visit the DePauw School of Music online by clicking here.
Back