'Alyson Shotz: Topologies' at Peeler Art Center, March 14 - April 15
March 12, 2007
Also: 'Kevin McCarty: I'm Not Like You,' January 29 - May 10; 2007 DePauw Biennial, February 14 - May 10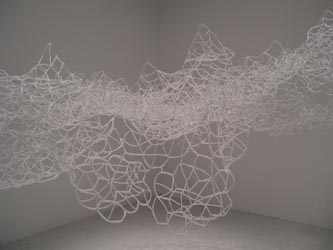 March 12, 2007, Greencastle, Ind. - "Alyson Shotz: Topologies," an exhibition featuring recent work by New York-based artist Alyson Shotz, will be on view at the Richard E. Peeler Art Center at DePauw University from March 14 through April 15, 2007. You're also invited to attend an opening reception featuring a talk by the artist on Wednesday, March 14, at 4 p.m. The exhibition is presented free of charge. (at top: Allusion of Gravity, 2005; glass beads and steel wire)
Alyson Shotz is known internationally for works of art that address space, light and perception. Her interest in environmental issues and topology -- a branch of mathematics concerned with the properties of geometric forms that remain constant despite transformation -- is also evident in her artworks. For Shotz, topology is a point of departure that allows her to think about shape and form and to envision natural surroundings as abstract "objects" -- tangible works that invite the viewer to step through her looking glass into the invisible world.
The natural world is a source of beauty and wonder -- as well as doubt and
inquiry -- for Alyson Shotz. Her art touches on scientific concepts and makes evident the not-so-foreign relationship between science and art. Like the perpetually changing state of the natural world, Shotz's sculptures and prints are mutable: changeability is central to her artistic interests. (at right: Hyperbolic Red Hook, 2005-06; double-sided inkjet print on folded paper)
The recent work of Alyson Shotz explores space and how we perceive it. By synthesizing mathematical models of the environment with the dynamic use of reflective and digitized forms, Shotz's conceptual aesthetic offers us a fresh perspective on a world we thought we knew. Her work floods the invisible with detail and light and creates new ways of observing and mapping our surroundings, revealing how active participation in this process can heighten our perception of a complex world.
Shotz holds an M.F.A. from the University of
Washington, Seattle (1991) and a B.F.A. from the Rhode Island School of Design, Providence, Rhode Island (1987).(left: Spatial Propositions, 2005; plastic and plastic grommets)
Her work has been exhibited at the Yale University Art Gallery, New Haven, Connecticut; the Madison Museum of Contemporary Art, Madison, Wisconsin; the Aldrich Contemporary Art Museum, Ridgefield, Connecticut; the Rice University Art Gallery, Houston, Texas; the Guggenheim Museum, New York; P.S.1 Contemporary Art Center, New York; and the Whitney Museum at Phillip Morris, New York. Her work is included in the collections of the Brooklyn Museum of Art; The Solomon R. Guggenheim Museum; Harvard University; the High Museum of Art; the Los Angeles County Museum of Art; and the Museum of Modern Art. She is represented by the Derek Eller Gallery in New York City.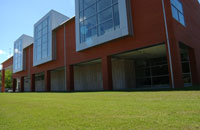 "Alyson Shotz: Topologies" has been organized by the Madison Museum of Contemporary Art and the Richard E. Peeler Art Center, DePauw University.
The galleries at the Richard E. Peeler Art Center are open Tuesday through Friday from 10 a.m. to 4 p.m.; Saturday 11 a.m. - 5 p.m.; and Sunday 1 - 5 p.m., and are closed during University breaks and holidays. Click here for more information about special events associated with this exhibition.
Back