DePauw a 'Best Value,' According to Kiplinger's Personal Finance
March 13, 2007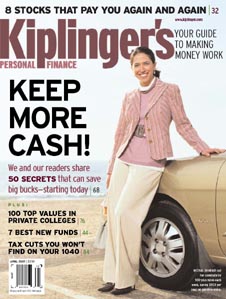 March 13, 2007, Greencastle, Ind. - DePauw University is among the 50 liberal arts colleges in the United States cited as a "best value" and is the top-ranked school in the state of Indiana, according to the April 2007 issue of Kiplinger's Personal Finance. The magazine, just arriving on newsstands, ranks DePauw number 38 on the list of "best values," and puts the University ahead of a number of peer institutions -- including Bryn Mawr, Oberlin and Dickinson Colleges. A separate list details the 50 top private universities.
"This year, we compiled two lists: one for liberal arts colleges, which offer mostly undergraduate programs, and the other for universities, which also offer graduate degrees. We applied the same academic and cost measures to each," Kiplinger's editors note. "Our rankings measure academic quality and affordability, with quality accounting for two-thirds of the total. We started with data on more than 1,000 private institutions provided by Peterson's, then added our own reporting. Our list ranks the top 50 universities and liberal arts colleges in separate tables. To determine each category, we used the Carnegie classification system, which organizes higher education institutions based on the highest level and number of degrees offered."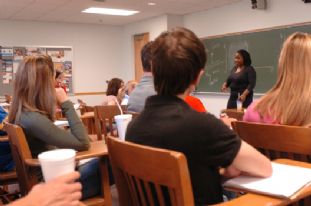 Access the rankings by clicking here and read the accompanying story here.
DePauw University is a nationally recognized, top-tier liberal arts colleges that has produced some of America's most prominent business, political and community leaders. Its student body of approximately 2,330 undergraduates comes from 41 states and 32 countries. They are taught by a faculty of 230, ensuring small class sizes and providing optimal opportunities for discussion, participation and one-on-one interactions.
The 2006 National Survey of Student Engagement (NSSE), released in November, found that the experiences of students at DePauw are significantly more challenging, stimulating, interactive and dynamic than those provided at peer institutions and the national average of all colleges and universities. The University performs especially well in the areas of level of academic challenge, active and collaborative learning,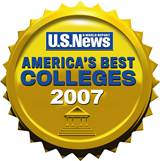 student-faculty interaction, enriching educational experiences.
A number of other national surveys and publications have also given DePauw's academic programs and campus environment high marks. The 2007 edition of U.S. News & World Report's "America's Best Colleges" lists DePauw University in the top tier of national liberal arts colleges for a seventh consecutive year. "DePauw is a midwestern match for many more expensive, small, private East Coast Colleges," asserts Barron's Best Buys in College Education. DePauw is again among the The Best 361 Colleges in the 2007 guide, and historic East College is pictured on the cover of America's Best Value Colleges: 2007 Edition, which lists DePauw as one of 150 colleges offering excellent academics, generous financial aid packages and relatively low costs.
Prospective students who would like more information on DePauw University, including access to an online application form, can click here.
Back