DePauw Faculty Woodwind Quintet Presents Monday Recital
March 16, 2007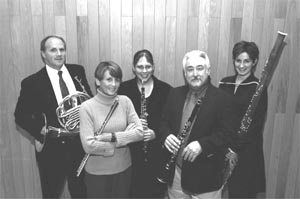 March 16, 2007, Greencastle, Ind. - The DePauw Faculty Woodwind Quintet, an ensemble-in-residence at the University, will present a concert on Monday, March 19, at 7:30 p.m. Members of the quintet include Randy Salman, Anna Mattix, Robert Danforth, Kara Webb and Anne Reynolds. The recital, which is free and open to the public, will be presented in Thompson Recital Hall and will include contemporary/romantic works by Frank Bridge, Darius Milhaud, and Carl Nielsen.
The instruments that comprise a woodwind quintet include the clarinet, flute, bassoon, oboe, and french horn, which when combined, create a warm, mellifluous timbre. Despite its versatility as an ensemble, as a genre, the woodwind quintet has a slightly limited repertoire, though composers are beginning to look with increased interest towards this particular combination of instruments. Interestingly enough, the three composers featured in this upcoming concert, Milhaud, Nielsen, and Bridge, were all violinists of origin, who looked to the woodwind ensemble genre later on in their compositional outputs. The Milhaud Pastorale is particularly beautiful, exhibiting a particular French flavor in its color and composition for the wind instruments.
Each member of the DePauw Faculty Woodwind Quintet is a leading performer of their instrument.
Randy Salman, clarinet, is an accomplished performer of both jazz and classical music, and has worked professionally with the Indianapolis Symphony and Chamber Orchestras, as well as the Smithsonian Jazz Masterworks Orchestra.
Anna Mattix, oboe, holds the position of principal oboe and English hornist with the Indianapolis Chamber Orchestra. As a member of the woodwind quintet Windophobia, she appeared as a semifinalist in the Fischoff National Chamber Music Competition and has been a finalist on both oboe and English horn for numerous orchestral positions including the San Francisco, Denver, Savannah and New Jersey Symphonies as well as the Grant Park and Glimmerglass Orchestras.
Anne Reynolds, flute, is the principal flutist of the Indianapolis Chamber Orchestra, as well as an active solo recitalist and chamber musician.
Kara Webb is second bassoonist with the Indianapolis Chamber Orchestra. As well as playing principal bassoon with the Lafayette Symphony and contra-bassoon with the Richmond Symphony, she has also performed with the Indianapolis Symphony Orchestra and is baroque bassoonist with the Indianapolis Baroque Orchestra.
The principal horn of the Indianapolis Symphony Orchestra, Robert Danforth has performed with orchestras in Grand Rapids, Toledo, Omaha, Detroit and Cincinnati. He has also been a member of the Civic Orchestra of Chicago, has participated in numerous music festivals, and was selected as a Fellow at the Tanglewood Music Center.
Visit the DePauw School of Music online by clicking here.
Back