Darren Wells '87 Named Sr VP of Finance & Strategy at Goodyear
March 14, 2007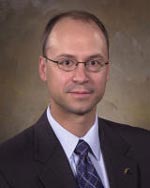 March 14, 2007, Greencastle, Ind. - Darren R. Wells, a 1987 graduate of DePauw University, has been appointed senior vice president of finance and strategy at the Goodyear Tire & Rubber Company. Wells had been serving as Goodyear's previously served as senior vice president, business development & treasurer.
"Darren has been pivotal in the finance team's design and execution of Goodyear's complex refinancing and capital structure improvement over the past four years," says Robert J. Keegan, chairman and CEO of Goodyear. "That allowed the company time to successfully implement critical elements of its strategy."
An announcement from the company notes, "Wells joined Goodyear in August of 2002 as vice president and treasurer. In May of 2005 he was named senior vice president of business development and treasurer. Prior to Goodyear he served two years as assistant treasurer of Visteon Corporation,

assisting with the spin-off from Ford Motor Company. He worked for Ford Motor Company from 1989 until joining Visteon in a variety of assignments including finance director for Ford Credit, Australia. A native of Indianapolis, Wells earned a bachelor of arts degree from DePauw University and an M.B.A. in finance from Indiana University."
Read more by clicking here.
Back