Five Honored as Distinguished and University Professorships are Announced
March 14, 2007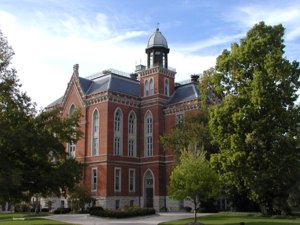 March 14, 2007, Greencastle, Ind. - Five members of the DePauw University faculty are being honored for their sustained excellence in teaching, service and professional accomplishment. Neal B. Abraham, executive vice president, vice president for academic affairs and dean of the faculty at DePauw, today announced that the recipients of the Distinguished Professor Awards for 2007-2009 are: Bridget L. Gourley and Susan K. Hahn. Receiving University Professor Awards for 2007-2011 are: Meryl B. Altman, Cindy O'Dell and Daniel E. Shannon.
Each academic year since 1998-99, DePauw has recognized faculty members to receive Distinguished Professor Awards for sustained excellence in teaching and service. University Professor Awards, established in the same year, recognize sustained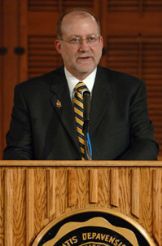 excellence in teaching, scholarship and service.
"This is the ninth set of these awards since the creation of the program, under which we have made 53 awards," notes Dr. Abraham. "The foundation of DePauw's excellent national reputation has been and continues to be a faculty that is committed to teaching, scholarship and service. I join my colleagues in commending these five exemplary individuals."
A committee composed of Dean Abraham and past University Professorship recipients Mac Dixon-Fyle, Tom Hall and Mary Kertzman, along with prior Distinguished Professor Award recipients Mary Dixon and Caroline Smith, reviewed dossiers prepared by the nominees as well as confidential letters submitted on behalf of those up for the awards. The panel made recommendations to DePauw President Robert G. Bottoms and he has endorsed them.
DISTINGUISHED PROFESSOR AWARDS, 2007-2009: for sustained excellence in teaching and service; these may be awarded only once in a career.
Bridget L. Gourley, professor of chemistry and biochemistry and chair of the department, earned her B.S.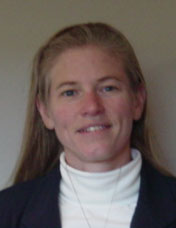 in 1984 from University of Puget Sound and her Ph.D. in 1989 from University of Utah. She joined DePauw's faculty as instructor in 1988, was promoted to assistant professor in 1989, to associate professor in 1994 and to professor in 2003.
Dr. Gourley is known as a thoughtful, reflective teacher whose aim is to develop courses which are rigorous and challenging, while providing a nurturing learning environment. She uses many different approaches to help all students engage with the material. This includes active learning techniques and the use of technology.
Students speak highly of Gourley's challenging courses and her supervision of their research projects. One writes, "These activities would not be possible without an incredible amount of support and dedication from Dr. Gourley." Another former student, now in graduate school, writes that the professor's "teaching methods, lectures and assignments allowed me to truly understand the core of the subject ... I owe a great deal of my preparedness and my development as a chemist to Dr. Bridget Gourley." Students also refer to her as an excellent mentor.
Professor Gourley's work in science education is nationally recognized. Jeanne Narum, director of Project Kaleidoscope, calls Gourley, "someone I can call on for leadership" in the organization, which she serves as a faculty leader. The professor has also been actively involved in the Council on Undergraduate Research for more than a decade, most recently serving as the local organizer of the organization's 2006 national conference, which was held at DePauw.
Dr. Gourley's service includes directing the Women in Science (which she co-founded) and Science Research Fellows programs. She has also served for six years on the Faculty Development Committee. Gourley helped inaugurate and sustain the DePauw Institute for Girls in Science, and co-organized Project Kaleidoscope's 1998 national workshop on women in science, which DePauw hosted. Thr professor also coordinated the University's first-year advising program and served on the Women's Studies Steering Committee.
Susan K. Hahn, professor of English, director of the Writing Center and associate faculty development coordinator for the writing program, received her B.A. in 1976 from Clarke College; her M.A. in 1978 from University of Northern Iowa; and Ph.D. in 1986 from University of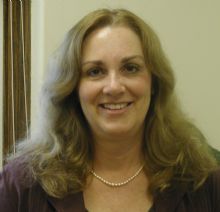 California (Santa Barbara). She was appointed to DePauw as director of the Writing Center and associate professor of English in 1996 and was promoted to professor in 2004.
At the Writing Center, Professor Hahn has created a very effective environment for students to improve their writing. One writes, "Dr. Hahn forever changed the way I sit down to write," while another testifies that Hahn "challenged me to think more critically about literature, about the relationship between reading and writing, about my own writing." Students describe her as promoting relevant and challenging discussions and call her rigorous, but accessible. She is particularly effective in promoting interactive classroom activities, small group work and in-class writing assignments. These features combine to create a very effective learning environment.
"She is unwavering in her professionalism," attests a colleague, while another says that Dr. Hahn "is a tireless worker, a passionate advocate for writing in the University, for the department, the women's studies program and a willing leader in department, administrative and university-wide matters of debate."
Susan Hahn has presented a variety of papers about the writing program at professional meetings.
In addition to the duties described above, her service to the University includes five years as a member of Committee on Faculty, which she also chaired, and two years as associate chair of the department of English.
UNIVERSITY PROFESSORS for 2007-2011: for sustained excellence in teaching, service and professional accomplishments.
Meryl B. Altman, professor of English and women's studies, earned her B.A. in 1979 from Swarthmore

College and her M.A. in 1980, M.Phil. in 1982, and Ph.D. in 1988 from Columbia University. She joined the DePauw faculty in 1990.
Dr. Altman has been a pioneer in constructing the formal women's studies program at DePauw as well as a consciousness its offerings. She has nurtured the development of major and minor programs for women's studies, recruited and built sustained faculty and student interest in the program offerings, and developed both the Introduction to Women's Studies and Feminist Theory core courses and first-year seminars. Her students recognize her as a particularly effective teacher -- reflective, stimulating, challenging, encouraging, and disciplined. She is notable, in the words of one student, "for her seemingly endless intellectual curiosity and her refusal to accept lazy thinking or conventional wisdom." Another student wrote, "Meryl's courses carefully blend instructor guidance and student led self-discovery." Students also attest to her profound influence on their lives. One wrote: "She says things which lead me to rethink much of what I have taken for granted, in literature and in my life."
As a colleague describes, Altman also has become an effective administrator, and "seems to be one of the significant public faces for feminism at DePauw and ranges effectively between the work of detail and conceptualization that such administrative engagements necessitate." Yet another observes that in the GLCA Women's Studies Committee meetings it is clear that "Meryl is the person to whom others on the committee look for ideas and answers ... she is taken seriously. And she's helped make other colleges take DePauw seriously, in turn."
Professor Altman's scholarly work includes numerous articles and reviews on a wide range of topics in literary studies and feminist theory, including Faulkner, Djuna Barnes, modern poetry, metaphor, and sexuality. She writes regularly for the Women's Review of Books. Her ongoing book project explores the contributions of Simone de Beauvoir in the context of the 1950s and 1960s. Colleagues note that her work demonstrates a "startling originality," while another writes, "She has been successful in clearly defining and proposing solutions to large theoretical problems: such as the impasse in feminist theory over subjectivity and the problem for feminism of connecting the personal and the political. While taking on big issues, her work also shows a meticulous attention to detail." A colleague outside DePauw states, "Professor Altman is a remarkable and uniquely talented scholar."
In her service to the University, Altman served for 16 years as coordinator/director of the women's studies program until her appointment as faculty development coordinator began in 2006-07. She has served on and chaired the Committee on Academic Policy and Planning (CAPP), the Ad Hoc Committee on General Education, and the First-Year Seminar Committee, among others. She also served as catalyst for the Mellon-funded Faculty Career Enhancement Program and has been a leader and inspiration for organizing the faculty research colloquium series, which works to develop the intellectual community at DePauw.
Cynthia O'Dell, associate professor of art and chair of the department of art, earned her B.A. and B.F.A. in 1994 from University of Iowa and her M.F.A. in 1998 from University of Colorado, Boulder. She was appointed to the faculty at DePauw as an assistant professor in 1998, and was
promoted to associate professor in 2004.
O'Dell's students are enthusiastic about how much her teaching inspires them to learn, create, and achieve. They refer to her classes as filled with "innovative and thought-provoking readings and projects. Immediately, students are intellectually engaged." Students mention the challenge of her critiques and the inspiration they draw from her insistence that they look even more deeply to find the creative origins of their work. She is widely credited with inspiring many students to pursue artistic careers.
External reviewers of her professional and artistic accomplishments call Professor O'Dell "a tremendously productive artist. She has created a new body of work, often in a new medium, virtually every two years." They also point to the fact that her work has been exhibited in more than a dozen states and "has been nationally recognized for its level of accomplishment."
In 1996, Cindy O'Dell began documenting the lives of women in Colorado who were living with cancer. After two years of interviewing and photographing these women, the work evolved into "Common Threads," an exhibit of photographic quilts. It first exhibited in 1998 and has been shown in Colorado, Ohio, Louisiana, Michigan, New York, Iowa, Illinois, and Indiana. Writing about "Common Threads" in the Rocky Mountain News, Mary Voelz Chandler opined, "O'Dell hits the target: Often art that tries to make a statement on illness becomes more self-indulgence than self-expression, but O'Dell's 'Common Threads' carries a real impact on the topic of breast cancer: Her huge embroidered velvet 'frames' have a strong emotional center. No bathos, just connection." Colorado Daily's Alfredo De La Rosa called the exhibition, "an arduous and conceptually well aimed shot from a double-barreled sensibility. It concludes in work to which she brings several skills, keen intelligence and flawless competence."
In May 2003, O'Dell's film, Residue of Memory, was awarded "Best Experimental Documentary" at the New York International Independent Film & Video Festival. The work is described as "exploring the metaphorical relationship between family loss and the abandoned rock quarry that chronicles the journeys of five women."
O'Dell has twice been awarded Faculty Fellowships, first in 2002-2005 for her project entitled, [un]natural, a body of photographic work consisting of 30 large scale color and digital photographs addressing philosophical issues behind the concept of human relationship to the land and the defining or mythical line between what is considered natural and [un]natural; and now for 2007-2010 for her project entitled, Migrations, which she describes as "a new body of photographic work which explores ideas of transience, dislocation and migration due to the Irish Diaspora. This work uses the photographic transparency as a metaphorical device to explore dislocation by layering images from my family archive, which are transferred to black and white/color transparencies, with the Irish landscape."
In addition to chairing the art department, Professor O'Dell provided extensive leadership in research and design of the new digital and analog photography labs and digital video lab in the Richard E. Peeler Art Center. Her service to the University includes -- among other groups -- the First-Year Seminar Committee, the Women's Studies Program Steering Committee, the Film Studies Program Steering Committee, the Nature Park Faculty Advisory Group, and the Digital Video Standards Committee. She has also served as an art adviser for the Midwestern Review, as the New York Arts campus representative.
Daniel E. Shannon, professor of philosophy and chair of the department of philosophy, earned his B.A. in 1980 from Loyola University of the South, and his M.A. in 1982, and Ph.D. from the University of Toronto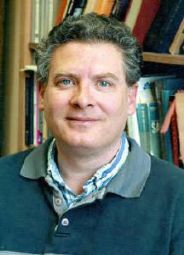 in 1989. He was first appointed at DePauw as assistant professor in 1990, was promoted to associate professor in 1996 and to professor in 2004.
In his teaching, Dr. Shannon has presented a wide range of topics at all levels of the philosophy department's offerings. His students describe him as demanding and stimulating, a clear and effective presenter of material and a thoughtful discussion leader, drawing some of their best work from them, often better than they thought possible.
Shannon received a Distinguished Professor Award for 2005-2007 for his sustained excellence in teaching and service. His work also has been recognized by an Aspen Foundation Fellowship in 1993, two Faculty Fellowships (2000-2003, 2004-2007), and the Jens Jacobsen Research Award in 2002-2003.
Professor Shannon is known as a scholar of Hegel and as a specialist of German philosophy of the 18th and 19th Centuries, having published a widely acclaimed translation (with notes, introduction and commentary) of "Hegel's Spirit," chapter six of the Phenomenology of Spirit. In 2004, he contributed "Schelling's Philosophy of Mythology: The Value of Myth to Philosophy," to the book Mythos and Logos: How to Regain the Love of Wisdom, and his article, "Religion and Its Relation to the State: An Analysis of Hegel's Position," appeared in Skepsis: A Journal for Philosophy and Inter-Disciplinary Research. In 2006, he contributed a chapter entitled, "The Riddle of Cohesion: Hegel's Answer to Lotze" to the new book, Humanity at the Turning Point: Rethinking Nature, Culture and Freedom. He has published numerous articles in refereed journals and has presented at international conferences. Shannon also organized the 6th World Congress of the Society of International Dialogue at University of Helsinki in July 2005.
In addition to serving his second term as department chair, Dan Shannon serves as a leave replacement on the Committee on Faculty, which he previously served as a member for four years. He's also served on and chaired the Student Affairs Committee, as a member of the Student Conduct Board, and as an officer of Division II and as the DePauw faculty representative to the GLCA Academic Council. In Fall 2001, Shannon was assistant to the director of the Associated Colleges of the Midwest Central European Studies Program in the Czech Republic. His professional service includes reviewing manuscripts for publishers and professional journals, moderating the list serve and reviewing papers for the Hegel Society of America, chairing several professional sessions, and serving as a member of the executive board of the International Society for Universal Dialogue (ISUD).
DISTINGUISHED PROFESSORS
1999-2001 : Cynthia Cornell, James Rambo, Andrea Sununu
2000-2002 : Gary Lemon, Charles Mays, Ralph Raymond
2001-2003 : Meryl Altman, Françoise Coulont-Henderson, Craig Paré
2002-2004 : Victor DeCarlo, Marcia McKelligan, Gloria Townsend
2003-2005 : Matthew Balensuela, Carla Edwards, John Schlotterbeck
2004-2006 : Page Cotton, Vergene Miller, Judith Raybern
2005-2007 : Robert Hershberger, Daniel Shannon, Jamie Stockton
2006-2008 : Mary P. (English) Dixon, Caroline B. Smith, Barbara Whitehead
2007-2009 : Bridget Gourley, Susan Hahn
UNIVERSITY PROFESSORS
1999-2003 : Nancy Davis, Underwood Dudley, Wayne Glausser
2000-2004 : Arthur Evans, Carl Huffman, Robert Kingsley
2001-2005 : David Berque, David Newman, Paul Watt
2002-2006 : Thomas Chiarella, Mac Dixon-Fyle, Wade Hazel
2003-2007 : Nachimuthu Manickam, Ellen Maycock, Barbara Steinson
2004-2008 : Thomas Hall, Bruce Stinebrickner, Valarie Ziegler
2005-2009 : Yung-chen Chiang, Mary Kertzman, Mitchell Merback
2006-2010 : Terri Bonebright, Vanessa Dickerson, Masha Belyavski-Frank
2007-2011 : Meryl Altman, Cindy O'Dell, Daniel Shannon
Back