Tigers rally from 10-point deficit and advance to national title game
March 16, 2007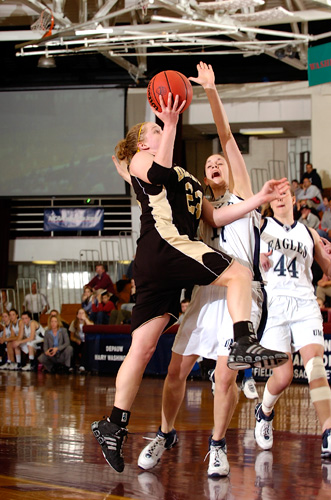 March 16, 2007, Springfield, Mass. - The ninth-ranked Tigers rallied from a 10-point deficit and advanced to the NCAA Division III national championship game with a 67-61 victory over 10th-ranked Mary Washington University. The Tigers face Washington University at 3:05 p.m. on Saturday after the Bears defeated New York University 72-53. The game will be carried on CSTV and WGRE.
The Tigers improved to 30-3 and established a school record with their 30th win. Mary Washington dropped to 30-3 and plays in Saturday's third-place game.
The Eagles' stifling defense launched them to a 7-0 lead in the first four minutes of the contest. After DePauw closed to within three at 18-15, the Eagles put together a 9-2 run that pushed the lead to 27-17 with 6:29 remaining in the half. The Tigers closed the half with a 7-2 stretch and trimmed the halftime margin to 31-26.
Early in the second half, Kalei Lowes nailed a three, while Bridget Bailey followed with a turnaround jumper and Gretchen Haehl knocked one in off the glass to give the Tigers their first lead at 35-33 with 16:24 remaining.
The Tigers stretched the lead to five, but the Eagles came back to take a 53-51 lead on Lisa Tracy's bucket with 6:20 left. Mary Washington still held a 58-56 advantage after Ashton Mitchell hit one of two free throws. With just under four minutes left, Liz Bondi nailed two free throws and then added a jumper to give DePauw a 60-58 lead with 3:25 remaining.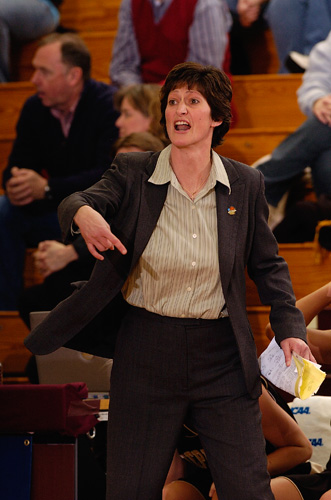 Following an Eagles' missed putback the Tigers extended the margin to 62-58 on Bondi's layup with 1:57 left. Mary Washington went three straight possessions without scoring before Suzy Doughty buried a pair of free throws with 24.7 seconds left to extend the margin to six.
Debbie Bruen cut the margin in half on a three with 17.8 seconds left, but Doughty knocked down a free throw with 16.3 seconds remaining and Cassie Pruzin hit a pair with 7.8 seconds left to seal the win.
"I was really proud of our effort today," DePauw head coach Kris Huffman said. "Mary Washington is very good and took us out of everything in the first half."
Bondi led all scorers with 28 on 11-of-17 shooting from the floor. Doughty paced the Tigers with five assists and four steals. Doughty, Pruzin and Caitlin McGonigal each grabbed five rebounds as the Tigers held a narrow 35-34 edge on the boards and hauled down 15 offensive rebounds.
Liz Hickey led Mary Washington with 14 points and 10 rebounds, while Bruen also scored 14 and shared the assists lead with Katy Larson with four apiece.
DePauw shot 39.1 percent from the floor to Mary Washington's 51.1 percent including 59.1 percent in the opening 20 minutes, but the Tigers knocked down 13-of-17 free throws and committed just 10 turnovers to the Eagles' 23.
Saturday's title game marks the second time a DePauw team has advanced to a national title game. The 1990 men's basketball team lost to Rochester by a 43-42 score.
Back