Women One Win Away from National Basketball Title After Defeating Mary Washington
March 16, 2007
See Game Online Live; Listen to the Action on WGRE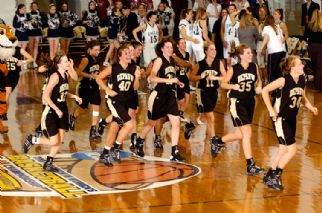 March 16, 2007, Greencastle, Ind. - DePauw University's women's basketball team is one game away from winning the first-ever team national championship for the 170-year-old institution. The Tigers fought to a 67-61 victory over Mary Washington this afternoon in Springfield, Massachusetts, earning the right to play for the NCAA Division III national championship tomorrow afternoon. Liz Bondi stepped up in a big way, leading the Tigers with 28 points.
DePauw -- which trailed by as many as ten points and battled back from a 31-26 halftime deficit -- is now 30-3 on the season. Mary Washington ends its season with the same mark.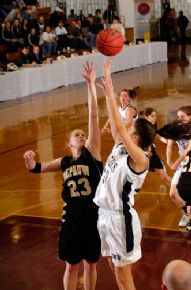 Tomorrow's game, which will televised nationally by CSTV (with video also available live online), begins at 3 p.m. Saturday. DePauw will play Washington University (St. Louis), which defeated New York University, 72-53 in today's late game.
"DePauw (30-3) moves on to its first championship game on Saturday against Washington (Mo.), a 72-53 winner over New York University in the second semifinal," reports the Washington Post. "Mary Washington (30-3), which hadn't lost since Dec. 8, will play NYU in Saturday's consolation game." Kathy Orton writes, "DePauw took its first lead on a jump shot by Gretchen Haehl 3 1/2 minutes into the second half. Fifteen seconds later, Liz Hickey answered with a layup to tie the score at 35. From that point on, no team held a lead greater than five points until the final seconds."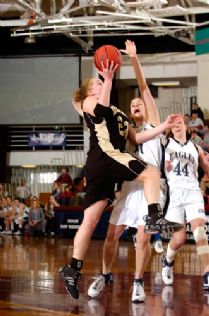 Virginia's Richmond Times-Dispatch writes that Mary Washington "could not overcome DePauw's Liz Bondi. The senior forward scored a game-high 28 points and shut down Mary Washington's Debbie Bruen in the second half." Mary Washington coach Deena Applebury tells the newspaper that Bondi is "very aggressive and posts up extremely well. She wanted the ball in her hands. We knew coming in that she was a good player, and she showed that."
An article in the Springfield Republican begins, "Down at halftime for the first time since this NCAA tournament began, the DePauw Tigers of Greencastle, Ind., knew what to do. Get the ball to Liz Bondi. They did that so well, they wound up rallying past Mary Washington of Fredericksburg, Va., for a 67-61 victory that advanced them to today's championship game of NCAA Division III women's basketball."
But Bondi offers, "It wasn't really a case of getting the ball to me. We were playing to find the open shot, and my teammates did a good job of finding me. I felt pretty confident with what our team could do, and we got a good flow going in the second half."
A sidebar story in the same paper points out, "DePauw's seniors have enjoyed a 108-15 record going into today's title game."
You'll find other stories in the St. Louis Post-Dispatch, Indianapolis Star and Fredericksburg Free Lance-Star.
You'll find comprehensive coverage of the women's basketball team here.
For those who can't get CSTV, listen to tomorrow's championship game live via student radio station WGRE.
(photos by Richard Orr)
Back