A Tough Outing for Matt Walker '99 is Motivational Tool for the Coach 8 Years Later
March 17, 2007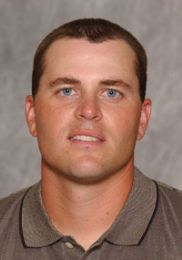 March 17, 2007, Greencastle, Ind. - "Matt Walker can rest easy for another year. His place in Wabash-DePauw baseball history is still intact," reports the Paper of Montgomery County of the Tigers' baseball coach and 1999 graduate of the University. "With the Tigers' 8-7 come-from-behind win Wednesday afternoon at Walker Field, they kept their eight-year and now 14-game winning streak alive for another season. Walker, a Crawfordsville High School graduate, holds the distinction of being the last DePauw pitcher to lose to Wabash -- a 7-5 loss on April 27, 1999."
"The guys remind me of that 1999 (game) every day," says Walker. It was a relief appearance in which he allowed two runs on three hits that saddled Walker with the loss 8 years ago. "I was coming in on two days rest. I had pitched a complete game the game before," says the coach.
The newspaper says Walker -- who also serves as DePauw's head football coach -- uses the

tough outing as a motivational tool. "We have the streak going and those streaks don't happen in baseball. We're not playing against Wabash. We're playing against the streak. We're not trying to stay away from it. It's Wabash -- we'd like to never lose to them. We use it to our advantage."
Access the story here. For the latest on the baseball Tigers, now 5-5 on the season and winners of five straight games, by clicking here.
Back