National Champs! Tigers Defeat Washington University to Earn Women's Basketball Crown
March 17, 2007
Also: View National Championship Photo Gallery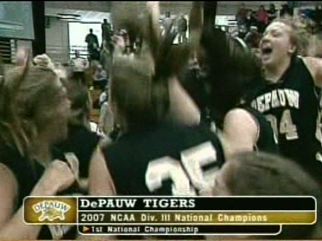 March 17, 2007, Greencastle, Ind. -

[Download Video: "The Final Seconds" - 2719kb] For the first time in its 170-year-history, a DePauw University team has won a national championship. The Tigers battled to the wire and defeated Washington University (St. Louis), 55-52. The game was played at Blake Arena on the campus of Springfield College in Massachusetts and was seen by a national television audience on the CSTV network.
DePauw, which led at one point by 15 points, fought off a late charge from the Bears. It was a one possession game when Washington got the ball back with about 16 seconds left. An attempt at a three-point-shot was blocked. Washington came up with the loose ball and an attempt at a layup rolled off the rim as time expired.

[Download Video: "More of the Tigers' Celebration" - 2233kb]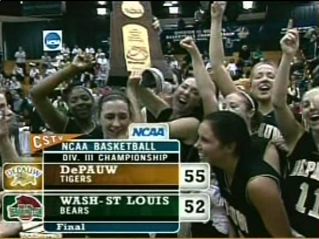 DePauw winds up with a 31-3 record, while Washington's season ends with a 25-6 mark.

[Download Video: "Coach Huffman" - 1622kb] "What a battle on both sides of the basketball court," said DePauw head coach Kris Huffman, seconds after the final buzzer sounded. "Congrats to Wash U. on a great year," she said, adding, "We're thrilled to be standing here right now lifting up that trophy."
"We struggled a little bit on the perimeter, but you know, you find a way," Huffman told CSTV of her team's performance today. "They didn't give up, they keep fighting and we got it done."
With DePauw's lead down to a single point and about 5:20 left to go in the game,

[Download Video: "A Key Three" - 779kb] Kalei Lowes hit a three-point shot from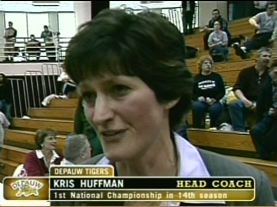 in front of the Tigers bench to give the team some breathing room.
With 3:46 left on the clock and the margin back to a single point,

[Download Video: "Another Huge Shot" - 936kb]Cassie Pruzin hit a long three-pointer to again shove the Bears back.
Moments later,

[Download Video: "Doughty Makes Her Move" - 575kb] Suzy Doughty made a nice move for an easy layup, giving DePauw a 50-44 advantage, but Washington clawed back and had a chance to tie on its final possession.
Liz Bondi paced the Tiger offense early. She and fellow seniors Doughty and Pruzin combined for 30 points.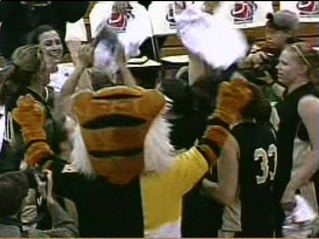 Bondi, who is an All-American in basketball and tennis, was named the tournament's most valuable player. She is joined on the All-Tournament team by Doughty, Washington's Jaimie McFarlin, Debbie Bruen (Mary Washington) and Stephanie Ryba (NYU).
DePauw reached the final game by defeating the University of Mary Washington Friday afternoon, 67-61.
For comprehensive coverage of today's game, as well as the Tigers' history-making season, access this story and visit the athletics Web page. Lengthy articles are also posted at CSTV's site and at D3hoops.com.
Back