Senior Receives Prestigious Carnegie Endowment for International Peace Fellowship
March 23, 2007
March 23, 2007, Greencastle, Ind. - Geoffrey Gertz, a DePauw University senior, is the recipient of a Junior Fellowship from the Carnegie Endowment for International Peace. Gertz is one of seven individuals from across the United States selected to receive the award from a pool of nominees submitted by almost 300 colleges and universities. Carnegie Junior Fellows work as research assistants to the Endowment's senior associates.
The Carnegie Endowment for International Peace is an educational organization in Washington, D.C., which conducts programs of research, discussion, publication, and education in international relations and U.S. foreign policy. The Junior Fellows Program is designed to provide substantive work experience for graduates of participating universities who have a serious career interest in the area of international affairs.
"Working as a Junior Fellow at the Carnegie Endowment will be an invaluable career opportunity, as it's one of the only programs in the country that allows recent graduates such

extensive research responsibilities," Gertz says. "I'm excited to be working with some of the top scholars in the field, applying my knowledge of trade and development to real world situations."
A double major in economics and French with a European studies minor, Gertz adds, "Two experiences I had at DePauw -- the opportunity to spend a summer assisting Dr. Brett O'Bannon with his research in rural Senegal and writing my Honor Scholar senior thesis on development issues -- were invaluable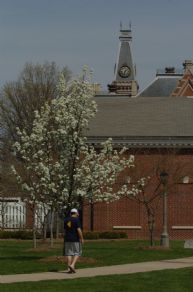 in the application process. Both helped me develop the skills necessary for research in developmental economics, and prepared me for a career in public policy."
O'Bannon, assistant professor of political science at DePauw, states, "Geoff Gertz is smart, open-minded and keenly interested in making a contribution to our understanding of the development problematic. Geoff, along with anthropology major Andrea Sutherland, accompanied me to rural Senegal last year and I think it had a significant impact on his thinking about what constitutes development, what factors are associated with meaningful economic and political development in the global south, as well as what the relationship between developing countries and the industrialized world should look like in order to pursue a meaningful conception of development, that is, one which actually improves the lives of the people foreign aid has often injured. I look forward to seeing the progress Geoff makes on these questions in the years to come," the professor adds.
Amy A. Welch, assistant director of the Honor Scholar Program, is DePauw's liaison with the Carnegie Endowment. "Geoff prepared meticulously to put together an impressive and compelling application," she states. "The opportunities this fellowship presents will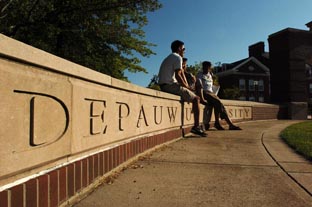 certainly provide him with an avenue to employ both his intellectual curiosity and global perspective." Noting that Gertz's honors research was entitled, "The Death of the Wal-Mart Economy: Trade and Development in a Post-Oil World, Welch adds, "I look forward to following Geoff's career."
Gertz adds, "I want to thank all the faculty and staff who helped me with the process, and specifically Amy Welch, without whom I never would have won the fellowship."
Learn more about the Carnegie Endowment for International Peace by clicking here.
Back