Odds of Success in Iraq Slim and Fading Fast, Lee Hamilton '52 Tells Group
March 20, 2007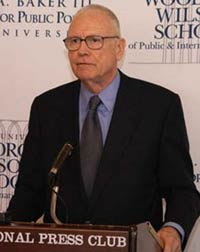 March 20, 2007, Greencastle, Ind. - "Four years after the United States invaded Iraq, achieving a successful outcome may be virtually impossible, said former Rep. Lee Hamilton, the Indiana Democrat who helped lead an independent commission that recommended major changes in the U.S. approach in Iraq last year," begins a story in the Indianapolis Star. The article by Maureen Groppe reports on Hamilton's speech yesterday at the Center for American Progress. Hamilton, who co-chaired the Iraq Study Group, is a 1952 graduate of DePauw University.
"To succeed in Iraq, you're going to have to do a lot of things very well and do them very quickly," Hamilton stated in his address. "And there is a real question on my mind whether the two principal governments involved can achieve that kind of effort."
The story notes that "the Iraqi government hasn't shown it can unite the warring factions in the country, and the U.S. government's performance in Iraq 'has been marked by several years of astounding incompetency,' he said."
Hamilton continued his call for the U.S. to increase regional diplomacy in the Middle East, among other things. "What has been lacking, and I think is still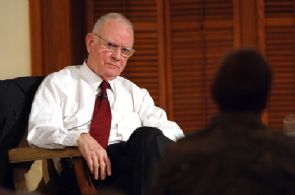 lacking, is an integrated approach to dealing with the problems," Hamilton says, echoing the call the Iraq Study Group made in its final recommendations.
Access the complete text at the Star's Web site.
Lee Hamilton was recently appointed to a twelve member, bipartisan "War Powers Commission." Learn more in this previous article. He was on the Greencastle campus in October to discuss the Iraq war and other matters at DePauw Discourse 2006: Issues for America. Access a story -- including video and audio clips -- here.
Back