Starbucks US President Jim Alling '83 Talks with Inside Indiana Business
March 19, 2007
Also: Jim Alling's Ubben Lecture at DePauw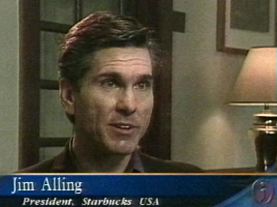 March 19, 2007, Greencastle, Ind. -

[Download Video: "Jim Alling '83 on Inside Indiana Business" - 2412kb] "DePauw University welcomed Starbucks USA president Jim Alling to the Greencastle campus," noted this week's edition of Inside Indiana Business. Gerry Dick, host of the statewide television program, noted that Alling "is a 1983 DePauw graduate" who returned to campus for a March 13 Timothy and Sharon Ubben Lecture. Dick interviewed Alling on that day in the foyer of Longden Hall and aired a clip of the session on his TV show.
Speaking of Starbucks' ongoing expansion and the controversy it sometimes generates, Alling noted, "You can't change everyone's mind, first of all, and you can't get upset because their perceptions are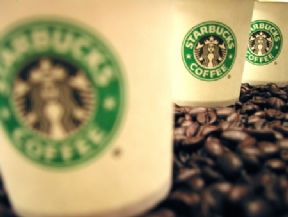 their reality, because that's what they believe. But what we can do is have conversations."
The entire clip can be accessed through the video clip above.
A longer segment of the interview can be seen at Inside Indiana Business' Web site.
Access a summary of Jim Alling's DePauw lecture -- including photos and video and audio clips -- by clicking here.
Source: Inside Indiana Business
Back