Bob Steele '69 and William Welch '40 to Receive Honorary Degrees at May's Commencement
March 22, 2007
March 22, 2007, Greencastle, Ind. - Two individuals who have distinguished themselves as professionals, citizens and alumni of DePauw University -- Robert M. Steele '69 and William F. Welch '40 -- will be awarded honorary doctoral degrees at DePauw's 168th annual commencement. The ceremony will take place Sunday, May 20, 2007 at 1 p.m. on the lawn of historic East College (weather permitting).
As announced in November, the keynote address to the Class of 2007 will be provided by Karen Koning AbuZayd, commissioner-general of the United Nations Relief and Works Agency (UNRWA) and 1963 graduate of DePauw. AbuZayd will also receive the McNaughton Medal for Public Service.
Bob Steele (to receive a Doctor of Journalism degree) is Nelson Poynter Scholar for Journalism Values and Senior Faculty, Ethics, at the
Poynter Institute for Media Studies. A member of the Poynter faculty since 1989, Steele has taught hundreds of workshops and thousands of journalists and media leaders at the Institute's ethics, values, reporting and leadership seminars. He's also consulted for over 90 news organizations across the nation and is frequently quoted in news stories which examine journalism ethics issues.
The co-author of Doing Ethics in Journalism: A Handbook with Case Studies and Newsroom Ethics: Decision Making for Quality Coverage, Steele spent nearly a decade as a broadcast journalist -- as a television reporter, executive producer and news director -- before turning to teaching. From 1969-72, he served in the U.S. Army and received the Bronze Star for Meritorious Service. Steele has also served two terms on the advisory board of DePauw's Pulliam Center for Contemporary Media.
An economics major at DePauw, Steele received an M.S. in television-radio from Syracuse University (1973) and a Ph.D. in mass communication from the University of Iowa (1990). Emerson College in Boston awarded him an honorary doctorate in 2006.
A Rector Scholar at DePauw, Bill Welch (to receive a Doctor of Laws degree) graduated with distinction in 1940. A year later, he was commissioned in the U.S.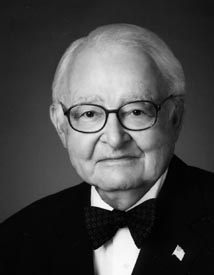 Naval Reserve and served during World War II until his discharge in 1946 with the rank of Lt. Commander. In 1948, Welch earned a J.D. from the University of Michigan Law School and began practicing law in Indianapolis, eventually becoming senior partner in McHale, Cook & Welch (now known as Bingham McHale LLP, in which he is of counsel). His practice has been primarily in the areas of corporate, banking and public utility law.
A former president of both the Seventh Circuit Bar Association and Lawyers Club of Indianapolis, Welch is also a member of the American, Indiana and Indianapolis Bar Associations. He has also chaired the boards of trustees of the Health and Hospital Corporation of Marion County and of Citizens Gas & Coke Utility of Indianapolis.
Bill Welch has served as a Trustee of DePauw since 1979 and is presently a Life Trustee of the University. He is a former president of the DePauw Alumni Association and recipient of the Old Gold Goblet.
For more information on DePauw's 168th annual commencement, click here.
(photo of William Welch: Photographic Images)
Back